Facts of Jewel
Random Facts About Jewel:
My name is Jewelen McKinzie, but everyone calls me Jewel
Member of Lady Knights
Member of Thespian Troupe 42
Is African-American
Just got engaged!!!!
My fiance is on Gaia, he goes by the name of Sigma Blu<3
Loves to read anything
Slightly obsessed with obento boxes
Enjoys video games
Loves musicals and theatre
Glitter and make-up is so awesome to me
Currently enrolled at the University of Arkansas at Monticello
Psychology major
Anthony Hopkins is my favorite actor
Black, purple,and silver are my favorite colors
Disturbed is my favorite band!!!!!
Speaks some French, some German, and is currently taking Japanese
Wants to go to Japan sooooooooooooo badly!!!
Music is awesome
I love to write
I love to act
I wish I could paint
Pretty much all forms of art interest me
Loves random comes so you should leave me one!!!
Me and my fiance!!!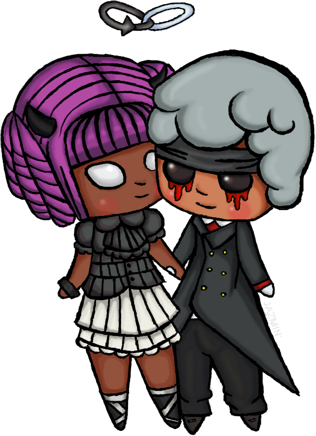 Muh Face
Art by Unlucky FourLeafed Clover!!!! Buy her artz NOW!!!!