About
Name: Obito Uchiha
Age(rl):13
Ninja rank: Chunin
Likes:videogames,watching naruto and anime,role playing shows,and well to many stuff to even say
Dislikes: doing homework(why'd they even have to invent it),posers,and drugs
favorite foods: Onigiri,fries,ramen,dango,ice cones,pocky,konpeto,and more japanese foods
dislikes:vegetables
About me-
I'm a Obito cosplayer cause Obito is cool!
He's also a uchiha even though he dies in the series i still like cosplaying as him.
I live in Osaka Japan so Konichiwa namae wa Uchiha Obito desu
a little bit of japanese for u lolz
I have friends i know in rl on here but they still didn't add me yet(evil ppl D&lt
wink
nah nah jk
If u want to add me
1- send me some mail if u wanna add
2- i will add anyone but NO beggers or hackers
and 3- didn't really think of 3 oh well forget that step
Now what to do.....Oh yeah well hope you enjoy my profile! it's made by the top guy on my page Sasuke!
biggrin
Here's some pics!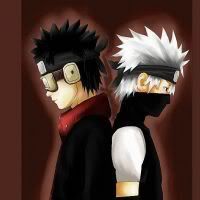 Friends
Viewing 9 of 9 friends
Multimedia