About
FUDGE EYE NUH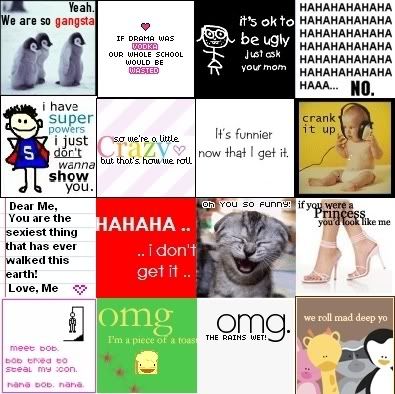 hmm what can i say about me? Well my name is Jonathan or Jon for short. My favorite anime is FMA. In fact if it wasn't for FMA i wouldn't know what anime is lol. I like music alot. I could listen to any kind of music but my favorite is rap. I think my favorite song so far is Animal I Have Become. I
don't have a favorite rap song because there are so many i like. But any i'm just a cool guy hang out with. So i guess thats all about me.
favorite rock band:Flyleaf
favorite alternative band: Panic! @ The Disco
favorite rapper: Lil Wayne
favorite male singer:Robin Thicke
favorite female singer:Keysha cole
favorite games:FMA games, Kindom Hearts, Madden, FF7, FF10, and FF12
favorite anime:FMA, Naruto, Bleach, and Yu Yu Hakusho
favorite manga:.hack legend of the twilight
favorite poem:things that makes hearts break (by 2pac)
check dis out its me passin out:
http://www.youtube.com/watch?v=Q8sJtLmLk1o

Which Final Fantasy Character Are You?
Final Fantasy 7
Friends
Viewing 12 of 89 friends
Multimedia
Signature

I Own YOU so leave a comment!