Twintails of Doom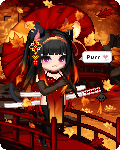 Details
Occupation

Pigtails of doom

Birthday

04/15

Website
---
Interests
Favorite Movies/Anime
About
Drop your comment here!


Click HERE for OC information. I like people who take the time to go know about my characters before they make assumptions.

heart
My real name is Stella.
Formerly known as II Honmei Choco II, changed my alias because I got bored with it. 😓
I enjoy making stories, though it takes me alot of brainstorming to create an ideal character. Some ideas you can say are borrowed based on avatar items I have and put together.
**Self-proclaimed WG's Official Tsundere**
(((My Bgyrl Fury signature.
Thanks Amp of the HHF.)))

Student = Junior/ComSci major
Gamer = Skyforge(PS4, but inactive), Dungeon Fighter Online(PC, but inactive), Red Alert 2 Mental Omega Edition(PC)
Manga = Shokugeki no Soma
Music = Lo-fi, Jazzhop, some Kpop
Interests = Avatar art, friends


Journal
Grand Art Gallery
Art that I have commissioned so far either from Gaia or Solia.
Multimedia
Signature
Reika
Checking her gear in preparation for the next supply raid in her favorite hoodie.

My OCs

(Please quote me if you want a reply back! I jump around in forums alot.)