TrigunKittie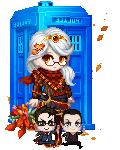 Details
Last Login

01/16/2018 4:53 pm

Total Posts

33695

Posts Per Day

6.26

Member Since

07/08/2005
Location

7 Barton 001377

Gender

Female

Website
---
Interests
Favorite Reads
About
I am SilverRain #31254 on FlightRising.com
If you need to get a hold of me, contacting me on Flight Rising is probably the best way. heart
|
GCD Lurker
|
Breedables Whore
|



~Life is not measured by the number of breaths we take, but by the moments that take our breath away~


.:.The worst part of life is waiting. The best part of life is having someone worth waiting for.:.
[ Should I smile because we are friends or cry because I know that's all we'll ever be? ]

Just Like Heaven
The Cure Love Quiz

My Johari Window
...and
My Nohari Window

Friends
Viewing 12 of 17 friends
Journal
Rain's Den of Gaiastuffs and Randomness...
Multimedia