Quien yo soy :D
Well, my name is Antonio, but most of my friends call me Tony. n.n
I'm a big guy, but not that big. Average big xD
I'm Cuban and really only know how to write and read Spanish, as well as understand. I can barely speak Spanish, though.
I'm very friendly, pretty shy and I can be funny. I'm random and weird. I sometimes pretend to be perverted to annoy my friends xD
When in fact, I really don't care about sex.
I'm straight, people, understand that xD
I consider myself ugly, though lately a lotta girls have been calling me attractive. You know who you are.. >////>
I love anime, but I haven't seen too much anime lately.
I love video games!! Just love 'em. Especially fighting, RPGS, action RPGs, action, an adventure games. Oh, and some party games, though, I think a lotta games can fall under party games. n.n;
There's lot more to learn about me, and if you do want to learn.. just talk to me one day, and I'm sure we'll become good friends.
AIM:TonybloodPhoenix
YIM:tonythedevil
Skype:tonythebloodphoenix
Welp, see ya'!
By the way, Papusa is my aunt. Give her respect!!
biggrin
She's way too cool to disrespect etheir way.
If I could only pick both sides...
Demonic power...
Angelic might...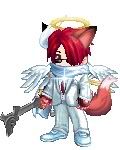 Thanks for the gills, Black Angel.
I love you lots!!! :]
heart
heart
heart
heart
heart
heart
1k[.x.Delicate_Poison.x.]1k
heart
heart
3k ArekyaKaito 3k
heart
heart
1k Lycoris11 1k
heart
400g Raze hell 400g (No hearts for you
xp
)
heart
500g [Dancingstagequeen] 500g
heart
And the most awesome and random donater
1k Kyoujin Neko 1k (I'd give ya' hearts, but I don't roll that way
xp
)
Now.. here's the true, best, donation (it was actually a trade.. but a trade I wasn't worthy of O.O)
heart heart ANGELBOW for 400g Akari Ao 400g for ANGELBOW heart heart
Sword of Aegis
domokun
heart
KillerDomoOwnsU
heart
domokun
Sword of Aegis (thank you, you rock!!
biggrin
)
Oh my God! I love this chick! She just gave me all her money! You go Akari!!!
mrgreen
heart
heart
heart
heart
May I be able to repay you one day..
Thanks for the donations, you guys :]
This is the current Dream AVI I'm making, please, donations are appreciated.