About

drawn by: Revilis
goth, punk, raver, phyco, nerd and everything else all smashed into one
Albino Kitsune Wrote:
Tnseukkoi: City night life, dark alley's, steam from the manholes in the cold air, yeah that just screams 'my kinda spot' for you. you don't know... something about the quiet of walking down an alley at night and seeing light shine through the steam from manhole covers just speeks to you. Maybe... the city is trying to speak to you.
I bet if you listen to the city one night as you lean against the wall of a building you'll hear some tales of ole' and some tales of new. The city has something it wants you to know... but just what is it?
Tamas wrote:
She smoked her cig out in the cold dark night, listening to the islent sounds around her. Her shadow spirit glowed, ready to torture another soul. She smudged the cig and threw it to the ground, and got ready. The vampire jumped out, but she was quick enough, and struck the vampire.
""I heard that." She said.
Lempia
Hi, I work for an MVD in AZ, and were not allowed to issue plates with 666 on them unless they're requested by the customer, we mostly destroy them. Just thought I'd tell you cause of your sig.
GAIA IN THE NEWS PAPER!!!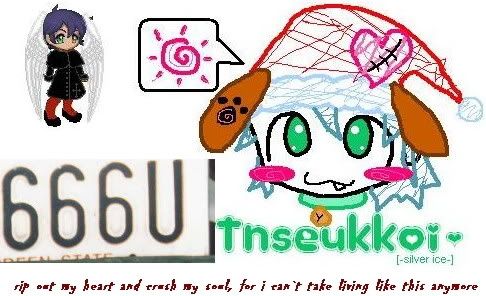 have you been cowed?
WATER MEAT!!

GRUNNY!!!
Signature
# of licen plates with 666 on them: 221