About Kuro-oni
About my name: The Kuro-oni (The Black Demon)
Anyway, my name is derived off of one of my characters/inner demons, Kuro-oni. He's a shadow demon/self proclaimed boogie man that was created in 2005, but his most recent form (and my personal favorite) was made in 2008 while I was attempting to draw the cover art for Q-Ko-Chan vol. 1. To put it simply, Kuro-oni's newest form (which my avatar can't fully comprehend) was a mistake, even if it was a good one. I've still been giving him new designs every now and then, but the lanky, 14 foot, monsterous Kuro-oni still lives on, and he probably always will.
There's also a reason as to why "The" is in my name. Ya see, when I first changed my name, I was told that "Kuro-oni" was already being used. Quite the annoyance, really. Anyway, to put it simply, I put it there to let people/humans know that I am the one and only Kuro-oni! I am The Gambler of human souls, Kuro-oni, Darkness Incarnate!
Some of you may be wondering what "Kuro-oni" means. Well, I'll tell you. When I first came up with this name, I put the Japanese words for "Black" (Kuro) and "Demon" (oni) together, making my name read "Black-demon". However, now that I've done some reasearch on Japanese names, I've learned that "Kuro" also means "Ninth son", so my name can either read as "Black-demon" or "Ninth Son of Demons".
Oh, and feel free to either call me "Kuro-oni" or "Kuro".
I also seem to have forgotten to mention one thing. I sorta have a thing for cat girls.
I've adopted a neko!
Name: Lamai
Likes: Friendship, meat, company, milk, video games, and Chase
Dont like: Cruelty, vegetables, loneliness, fruit/vegetable juice, board games, anyone who doesn't like her or Chase
Owner: Chase
You can adopt one too!
Adopt One!
And for the Blue Submarine No. 6 fans out there (and for those that even remember the anime):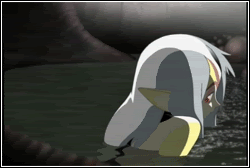 You've just gotta love Mutio!