THE KING OF ISRAEL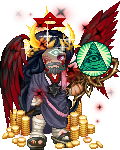 Details
Last Login

03/19/2019 4:13 pm

Total Posts

3166

Posts Per Day

0.63

Member Since

07/01/2005
Gender

Male
---
Interests
Hobbies/Interests
About

[/img]



I love all sorts of indie/underground/old school metal and some hip hop, thrash, nu-metal, all sorts of other genre's I listen to anything if it truly sounds good.
I'm 5'08 and 150 lbs.
I'm 24. (Sagittarius)
I like old-school anime.
I like films based on the criminal underworld and comedies, as well action movies.
I'm an artist and film writer

[/img]

[/img]








[/img]
Friends
Viewing 12 of 171 friends
Journal
A day in the life of Tenji
A PLACE WHERE I CAN PUT RANDOM STUFF
Multimedia
Signature