About
Featured song is:
Y I Do
by Zebra Katz
●Best viewed on any browser except I.E.!●
Status: ●I Love College <3! ●
Behold The Giggles. I've first started back in February of 07. I'm currently in College at the moment, a senior and love playing sports .
I love Brownies

and Cupcakes

Well I used to a lot but now, I try to eat better. Have to have a nice smile right?
I enjoy working out a lot. I think I have a slight obsession with biceps. I play video games such as Mario games, Dante's Inferno, Killer Instinct, Ninja Gaiden 2 being my favorite since it is a challenge. Violent games are pretty awesome :3
I wish I could play God of War and Devil may Cry.
God of War is amazing. I have been missing out for so long. I also miss Black ops 1 & 2.
I can always be very shy and quiet, and sometimes I can't shut up. Just let me know when either one is a problem xD!
I am VERY VERY forgetful, don't take it personally if I forget something important.
●My avatar usually is white, but that doesn't mean I am <----this gets people everytime!! Open your mind!!●
●I love hugs soo much :3! Indeed I do. I also like comments-not about me but conversation in general●
●If you want to get to know me, or want to know anything, just ask me ¬ ¬●
● If you want to know who makes my avatar art in the lower right corner, look right under the thumbnails for the names which happen to be listed in order. Oh and, I love avatar art k? Thanks.●
I SWEAR I WAS ON BRB
One of my most loveable friends Izzi. I love him indeed and I tell him just about everyday n.n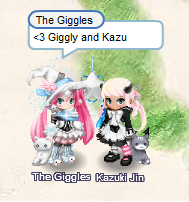 This girlie makes me one happy camper xD She always has adorable looks and she's a pretty good friend. Best of all, she makes me happy <333 And I took this while she wasn't looking < < n.n
~[Art for Giggly Gallery]~




{click to enlarge}

~

Artists In Order

~: ●

elequoir

●

Jiti

●

Ruurin.Deviantart.com

●

xOetoriya

●
●

iMrs.Plushie

●

Dewie_Chew

●

CIoud-Kun

●

Dewie_Chew

●

Moo Moo

●

iiEvee

●


I love art ^^ Especially free art haha c: You can draw me if you like-it would really make my day ^^


Thank you for visiting ^^ Now hit that comment button n.n
Friends
Viewing 12 of 148 friends
Multimedia
Signature
[img:f06de58278]http://i666.photobucket.com/albums/vv24/ChainedHearts0612/gigglebyChewie_Dew.gif[/img:f06de58278][/align:f06de58278]
● Questing:[/color:f06de58278] Angelic Scarf, and ~Avatar art! :3 ● [/color:f06de58278][img:f06de58278]http://i5.photobucket.com/albums/y176/absobloodylutely/LightBlueHeart.gif[/img:f06de58278][/align:f06de58278]