About

This is the mule for the Daffodil Movement, a cancer awareness movement here on Gaia.
Would you like to put a name on the Yellow Wall? Send me a labeled PM and we'll add it.
3nodding
If you would like your loved one's name to be linked to a personalized dedication in our journal, send that along too. It can be a letter to them, a memory about them, or anything you like. You can also make a thread dedicated to their memory in the guild.
Also, be sure to check out the guild for cancer awareness-related stuff all year around! (Though things may be a bit slow when it's not April)
TDM Guild
For everyone that's ever been affected by cancer; the friends, the family, the lives torn asunder. For every fallen tear, every fear, every sleepless night, every dollar raised and every mile walked, there's hope.

The only cure for grief is love.

To all those lost, rest in peace. We will never forget you.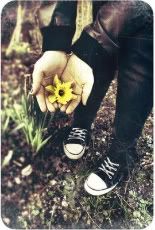 Friends
Viewing 12 of 150 friends
Journal
The Yellow Wall
Where we honor those that survived, those that did not, and those still fighting.
Multimedia