About
My media is a randomized, automatic playing playlist that you can't stop. If you don't like the current song, refresh the page. If you can't find a single song that you like... I'm honestly sorry. D:

Condensed About Me: (extended version here)
Name: Cindy
Age: 14
Hobbies / Interests: Music (Listening and playing [violin, piano]), Gaiaonline, Facebook, the interwebz, food, fashion, books, friends, family (but obviously much more than this stuff)
I Hang Out In: The Word Games
Call Me: Queenie
MSN Me: cinerdy@live.com
AIM Me: TehQueenofNerds
Follow Me: cinerdy
Facebook Me: No. I only give my facebook out to people who I actually trust. xD

My Usernames Through The Ages:
; tencinlanta
; Love = Your Nerd~
; [PANIC!] of the NerDs`
; Teh Queen of Nerds

dis eez da queenerz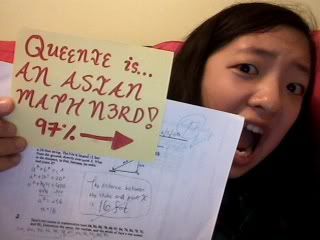 deez arr sum relleh oeld quotez
Kid Icarus
"
"
"
The Grace looks like it's an extension of the dress.
Fierce, girl! You better werrk it.
Meitantei! Cobalt
You take fierce and make it ferocious <3
'The Hall of Amelia Antipatica Quotes'
Amelia Antipatica
Mummby is the best FTW? Skeleton, Queenie is the Imperial Skeleton, but you're the Bad a** Skeleton.
Amelia's Comment Of Epic Fail
THAT IS LIKE 2X MORE EPIC THAN STAR
whores[/strike[ WARS.
Amelia's Comment After Her Comment Of Epic Fail
DAMMIT, THAT COMMENT WAS EPIC FAIL. XD
Amelia Anticipia
You like quoting me, don't you? xDD <3
Well, obvi.
rolleyes
Amelia Antipatica
Quess is one lucky guy. xDD You'll kill those bitches who try to glomp him, right? I wish I had a killer fan girl. xDD <3 QUEENIE, THE KILLAH FANGAL, RAWR.
xD <33
Friends
Viewing 12 of 89 friends
Journal
journal
Multimedia
Signature
SOO~









School.
Obviously, I haven't been coming on much.