Tama_Mantic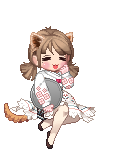 Details
Last Login

07/21/2020 6:48 pm

Member Since

05/27/2006
Gender

Female
---
Interests
About
GIVEN BY WIPPY ANON
GIVEN BY WIMEX SEVEN
i go by the name Tama (i don't like giving my real name out on the internet). I'm 24, and i'm currently trying to get into a vet nursing course. I'm also a wildlife carer, and have been since 2015
whee
You might see me around in the CB posting in threads or just posting threads, and only posting with Gifs. That's just how i roll because i'm bad with words, but mostly the fact that people seem to enjoy GIFs, so i figured i'd make people smile by posting them everywhere
3nodding
My hobbies include:
- Photography (mostly nature. Love macro)
- Martial arts
- Gaming (Wouldn't call myself a gamer girl or a geek, but i do like a good rpg game)
- Anime
- Audiobooks
- Walks
I have Two pet rabbits. A girl named Mika, and a boy named Shiro.
Journal
about my life
basically what i did for the day and what i think about it
Signature
I post gifs to everything, unless i don't have a gif that expresses how i feel on the subject.