Syx Nyn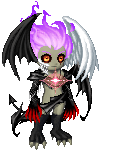 About
I suck at this....
First off, I'm a
Proud
Sociopath
.
Nothing much to tell really... I enjoy... sLaCkInG ooF, lOiTeRiNg, wAlKiNg ARouND tIll i gEt LoSt, STanDinG iN THe rAIn, aDn dayDREAMing!
SPECIAL THANKS to the following:
Reportable: First person to

Donate

! Thank you!!!
"ugh stupid reportable gave me stupid presents i hate her"

RAINBOW FLUX: Koolio-est dude on gaia!! If you think otherwise, DIE! emotion_awesome

Hauruu: Gifting

Nimeth: Being the MOST amazingly generous person EVER! Thank you so much!!!! emotion_kirakira heart

o.- <--- Is NOT a wink...
Signature
"Do I look fat?" - anorexic BlowFish[/align:5c8df73534]
[b:5c8df73534]Proud [/color:5c8df73534]Sociopath[/color:5c8df73534][/size:5c8df73534][/b:5c8df73534][/align:5c8df73534]