A little about the Naga
Okay MAJOR UPDATE TO PROFILE HERE!
Nickanames: Sword or anything that you can think of...
Likes: Yaoi, Yuri...cute uke's and bad-a** seme's. GAIA FRIENDS!!! uh....butterflies, cats, moon and crosses.
Dislikes: ...S&M, overkill on Bondage...the random stalker...(wouldn't mind a Gaian one tho...)
Relationship Status: ..meh
Hobbies: listening to music while writing a new chapter for my FanFics. My FanFics...writing yaoi fics...
Would Like To: start painting, improve my drawing skills and have nothing on my Wish List...(too bad that last one will never happen)
Fav Foods: Sweet things, salty things...uhm, strawberries and cream!
Least Fav Foods: Anything overly spicy or bitter...uhm, bland things.
Fav Voice Actors: J.Micheal Tatum, Brina Palenica, David Kaye, Richard Ian Cox...uhm...lets just say any voice actor from my fav anime's.
Fav Anime's: BLACK BUTLER (both seasons)!!! Gungrave. Princess Princess, Yu-Gi-Oh (all seasons), Soul Eater, InuYasha, Trinity Blood, Black Blood Brothers, Naruto, Poekmon (ORIGINAL!!!), Hitman Reborn, Nurihyon No Mago, Junjo Romantica, 07-Ghost, Sukisho, Gravitation
Listens To: Kamelot, Nightwish, Breaking Ben, Three Days Grace...those are the big bands i love...
Well, for those of you who are new to my friend's list...i'll most likely drop a random PM here and there just to make sure your still living. And to all others...I LOVE MAKING GAIAN FRIENDS!!!!

Take the Magic: The Gathering 'What Color Are You?' Quiz.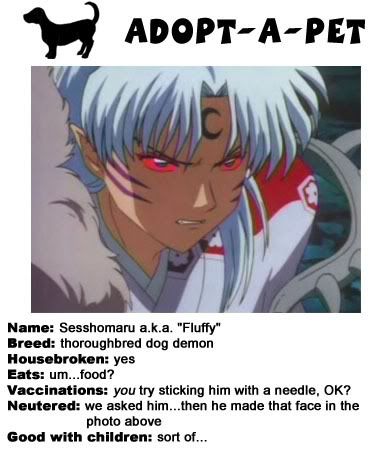 Well Here It Is....I Finally Have THE AVVI!!!!
We all have that one avvi that is what our Username is...I finally have mine. Ladies and Gentlemen I'd you all to meet Blair Warden Nox. Better known as Sword Of The Dark Ones. Now, Blair's story is kinda long and I've had years to let it brew so bare with me.
Blair is a naga, one who grew up near river's and such on an island territory. By all accounts Blair is an hermaphrodite, they literally switch their gender to suit their needs. Sometimes being a girl is way more beneficiary than being male. But, Blair has a small issue...their heart.
You see Blair's love life was sheltered, their first real love literally took their heart; caged it and kept Blair as their personal bodyguard with little room for comment. After some time being this person's bodyguard Blair earned themselves a title: Sword Of The Dark Ones as their employer was an evil tyrant who used all they wanted.
Blair isn't alone in the Nox Clan however, they have three siblings. A set of Twins and one elder brother. Their brother is Cole...one heck of a ill tempered male who constantly fights Blair. The Twins usually playing peacmakers between their two elder siblings. With all Blair has to go through, fighting their elder brother does help their stress. Cole's major issue is that Blair allowed themselves to be used like they are, so he take's it out on Blair whenever he can.