Sugary Pancake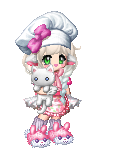 Details
Last Login

03/03/2021 1:58 pm
Birthday

08/05
About
¿HOLA?

I love art and all things cute :3 Cupcakes are my favorite! I'm headstrong and independent (most of the time) i spend wayyyy too much time online.
What is it about gaia that makes it so addicting?
I love Avi art especially chibis! so if you draw get @ me. ummmmmm thats all for now folks, talk to me! I dont bite!
(hard.)
DRAW ME?!!!??!!!? please?
Friends
Viewing 12 of 26 friends