About

gaia_angelleft
gaia_angelright
​Name: Bri.
Nicknames: Bri, BriBri, Sister, Brenna, Brianns, Rib (Heheh, typo that stuck from a friend.) , Dorkbutt, Glitchy, Bribear, Burr, Gerbs. Briboob.
Words About Me: Random, Sweet, Funny, Weird, Tomboy, Paranoid, Dumb Butt,
Perverted
, Quiet, Oblivious, Snarky, Feisty, Geeky.
Other Places to Find Me: Skype, TextPlus/Texting, DeviantArt, Tumblr.
Screenshots (That I have, at least.):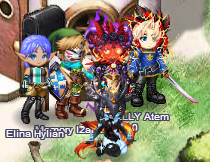 Cosplay inventory so far:

✶

From Vocaloid/UTAU

:
- Macne Nana
- MEIKO
- Teto Kasane
- Gumi Megpoid
- Ritsu Namine
✶

From Touhou

:
- Marisa Kirisame
- Alice Margatroid
- Ran Yakumo
✶

From Disney and animated movies

:
- Megara (Hercules)
- Elsa the Snow Queen of Arendelle (Frozen)
- Jane Porter (Tarzan)
- Lilo PeleKai (Lilo and Stitch)
- Crysta (Ferngully)
- Ariel (The Little Mermaid)
- Tinkerbell (Peter Pan)
- Merida (Brave)
- Mulan (Mulan)
- Jasmine (Aladdin)
- Pocahontas (Pocahontas)
- Rapunzel (Tangled)
- Genderbend!Jack Frost (Rise of the Guardians)
- Susie X (The Haunted World of El Superbeasto)
✶

From Anime

:
- Shinobu Oshino (Bakemonogatari)
- Panty (Panty and Stocking with Garterbelt)
- Dokuro-chan {Bludgeoning Angel Dokuro-Chan)
- Levy McGarden (Fairy Tail)
- Juvia Lockser (Fairy Tail)
- Will of the Abyss (Pandora Hearts)
- Amelia F. Jones (Axis Powers: Hetalia)
- Dead Master (Black Rock Shooter Series)
- Yoko Littner (Tengen Toppa Gurren Lagann)
- Ryuko Matoi (Kill La Kill)
- Nonon Jakuzure (Kill La Kill)
- Takane "Ene" Enomoto (Kagerou Project)
- Blair the Cat (Soul Eater)
- Nora Valkyrie (RWBY.)
✶

From Miscellaneous

:
- Female!John Egbert (Homestuck Webcomic)
- Fiend (Juniper's Knot)
- Miss Pauling (Team Fortress 2)
- Paige the Notepad (Don't Hug Me I'm Scared)
- Amethyst (Steven Universe)
- Pearl (Steven Universe)
- Opal (Steven Universe)
- Harley Quinn (Batman D.C Comics)
- Chubby Cherry (Ode to the Bouncer by Studio Killers)
- The Mistress (Superjail)
- Mitzi (Youtube Video: Monkey Rag)
- Poison Ivy (Batman D.C Comics)
✶

From Video Game Series:


- Shantae (Half-Genie Hero/series)
- Princess Peach (Super Mario Brothers)
- Princess Daisy (Super Mario Brothers)
- Princess Rosalina (Super Mario Brothers)
- Vivian (Super Paper Mario: One Thousand Year-Door)
- Barbara (Rayman Legends)
- Mona (Warioware)
- Ashley (Warioware)
- Captain Syrup (Warioland)
- Tetra (Legend of Toon Zelda series/Phantom Hourglass/Windwaker)
- Whimsicott (Pokémon)
- Kotone (Pokémon)
- Morrigan Aensland (Dragon Age)
- Felicia (Darkstalkers)
- Midna -Both Imp and True Form- (Legend of Zelda: Twilight Princess)
- Malon (Legend of Zelda: Ocarina of Time)
- Krystal (Starfox)
- Navi Human!Form (Legend of Zelda)
- Olivia (Fire Emblem: Awakening)
- Nights (Nights into Dreams)
- Tiny Kong (Donkey Kong Series)
- Dixie Kong (Donkey Kong Series)
- Samus Aran -Including Zero Suit- (Metroid)
- Shauntal (Pokémon)
- Palutena (Kid Icarus Series)
- White Mage (Mario Sports Mix Version)
- Creepy Doll (Ib)
- Rouge the Bat (Sonic)
- Amy Rose the Hedgehog (Sonic)
- Zelda (Skyward Sword Version/Legend of Zelda)
- Mary (Ib)
- Tatsumiya (Wadanohara and the Great Blue Sea)
- Fukami (Wadanohara and the Great Blue Sea)
- Pulmo (Wadanohara and the Great Blue Sea)
- Rawberry (The Gray Garden)
- Red Sea Witch (Wadanohara and the Great Blue Sea)
- Rocma (Okegom/ Under Ice Scream)
- Moge-Ko (Mogeko's Castle)
- Reficul (The Gray Garden)
- Rock (Okegom/ Under Ice Scream)
- Kirby. (Kirby Series/Gijinka.)
- Mitsuki (Okegom/Poison Bugs.)