strawberry-kiwiis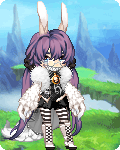 Details
Member Since

04/02/2007
Gender

Female
---
Interests
About
you can call me kiwi or sapphire.
i`ve made a bit of a come back here, so i`ll update this a bit
- foods i like: fruit, chocolate, sweet stuff, apples & cheese
- i prefer female pronouns, but you can call me by whatever makes you feel comfortable.
- i`m mostly asexual/greysexual.
- fandom wise: i`m a mixed bag really, Pokemon being my bread and butter.
- i draw, a lot.
bribe-shop
freebies
- i do have a job outside of this site, so don`t expect me to be here 24/7.
not trying to be rude, just being honest.
- i`d like to think i`m a nice person, just a bit hard to approach. sorry about that;;;
anything else you wanna know ? PM me <3
Friends
Viewing 12 of 90 friends
Multimedia
Signature