About
Profile BEST viewed on FIREFOX or CHROME yeeeeeh!
こんにちは、私のプロフィールへようこそ!e ueb
♥ Art On My Profile is © to Stelleia(me) ♥
[♥]
iiAIice
and
IxYukixI
are my sisters[♥]

●●NOTICE●●
▶
I DO NOT DO ART TRADES!..those are for friends only...

i love monochrome items, im a collector, and i love sheepys and bunnies...I'm back on gaia!!..I have an Auction Shop going right now! So if your interested in my artwork look below!~
|
[Comment Me]
|
[View Comments]
|
~ ♥ ♥ ♥ ♥ ♥ ♥ ~
♥
DeviantArt
♥

♥ Me & Miho(1cm) ♥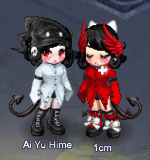 ♥ Me & Bubble ♥
♥ Me & Ari ♥
♥ Me & Dan(0pportunity) ♥



♥ My Auction!
♥
Nouvelle Lune Auction
Ended!
Limited Edition Auction!
Ended!
♥
My Questsu
♥
Nouvelle Lune Quest Thread
♥
My ArtShop
♥ OPEN
Pora Elinu

★
Rules Of My Profile!
★
-I do NOT donate!!!
-I do NOT accept random Friend Request
-I CAN'T answer you back if you have your profile/Comments blocked (Comments WILL be deleted if so)
-Please don't Ask me to make you a profile (I make my own)
-Don't Take/Steal any of my art...or i will hunt you down and report u =n=
-I have an ARTSHOP!! don't comment/pm me about art..only for compliments <3
-Im an artist myself...don't comment me asking to buy/look into your art
-DO NOT ADVERTISE EITHER! (in comments/PM) ITS SPAM!
-Don't Complain about my rules...i don't care what the hell you think about them
~will add more if i think of more 8D
★ YOU WILL BE PUT ON MY IGNORED LIST IF U DON'T FOLLOW MY RULES~

★ ★
Questing
★ ★
A lot of things..
★ ★
Future Quests
★ ★
more things...
★ ★
Dream Avi
★ ★
-Keep in mind this is "MY" dream avi...Plz Do Not Copy...Be creative and create your own..-
-none atm-

● ○ Behind the Pixels! ○ ●
L I S T E N - U P!! * A *


♥★This Be Me Btw e ue ---
♥Clicku♥
Hello everyone and welcome to my profile! My name is Alice, or you can call me Stella or Aura, either of the three are ok. Been here on gaia sense 03, I love chatting with my many friends, i love to draw and play video games/mmos..Such as Tera Online, Blade & Soul! I also play League of legends from time to time. My all time favorite food is Sushi. . . I'm 25 years old, birthday is on June 21! I am currently living in Florida and attending college here. I am not a person who puts up with rude people, trust me i will stick up for myself and for my friends if need be, you can expect the same treatment from me if you choose to treat me as such.. Also my Artwork can be found here at my shop "Cloud 9" (the link is up above, i try to keep it Open as much as possible. So Feel free to stop by and chat with me if you have some time to stop by that is!
NOTE
-
I DO NOT LIKE RUDE/ASSHOLES...if you where my friend and where rude in anyway...you can gtfo my friends list :/.. and your not welcome back on it...kthanks
emotion_bigheart
♥ IM TAKEN BY iiAIice, She my wifu...be jelly e ue!!!! ♥
emotion_bigheart
♥ Miho (1cm) Happens to be my little sister and a good friend here on gaia. Shes the best and one hell of an exchanger! So give her much love if u happen to run into her in Exchange! Love you Miho! ♥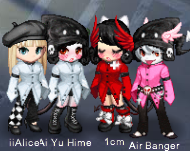 ★ Below is a special list of ppl that have been amazingly awesome friends. They have been so sweet, they donated and talk to me all the time with me and continue to be there for me though thick and then. Go ahead guys continue to be the sweeties you are! Love all of you! (please don't ask to be on the list if your not a close friend that hasn't done s**t for me kthanks) -no certain order-
♥
People I know IRL
~
emotion_bigheart
iiAlice - (My Sister and Best Friend For Life)
emotion_bigheart
IxYukixI - (Twin to my Sister >A> )
emotion_bigheart
pikagurlxd - (Best Friend who is a total nut)
emotion_bigheart
Xuti/1cm - (Little Sister and Good friend)
emotion_bigheart
xXRakaTheBeastXx - (Cause he complained he wasn't on here pfft)
★
Awesome Friends Here on Gaia
~
emotion_bigheart
Local Strangler - (crazy and handsome
razz
..he totally told me to put that)
emotion_bigheart
Kay Neine (Best person in the world!)
emotion_bigheart
0pportunity - (Awesomely Awesome friend <3 )
emotion_bigheart
GrimGlow - (Missed her.. but shes back and still just as sweet)
emotion_bigheart
Sorry To Slow v2 - (Such a Good Friend! I owe him so much)
emotion_bigheart
IVIorphlne - (New found friend that Donated to me QAQ)
emotion_bigheart
deery-Iou/lost in the rythum -(Good Friend that advertises for me)
emotion_bigheart
The Black Tea Geisha - (Amazing Friend)
emotion_bigheart
Clitcat - (Very Awesome Guy who Helped me out alot)
emotion_bigheart
DrEalVl -(hes just awesome....)
emotion_bigheart
Cioccolato Cuore - (Crazy Nut thats my best friend)
emotion_bigheart
Bubbly Tensei - (My best friend, Love you girl! )
emotion_bigheart
Pilot - (Awesomesauce friend B] )
emotion_bigheart
Layyzee - Wifuuuu (Bella)
emotion_bigheart
pr3m0rse - (Amazing Friend here on Gaia)
emotion_bigheart
lexu - kun - (My Fwiend who's art pwns)
emotion_bigheart
Sun Gadget - (OMG I JUST LOVE YOU YO)
emotion_bigheart
NKTrance - (Best Guy EVA eUe
wink
emotion_bigheart
iHAINECROSS - (Best Friend and one who sold me an OMG hat)
emotion_bigheart
Nuesaki - (He is So sweet! Thanks so much for NKS)
emotion_bigheart
Smith und Wesson - (Oldie friend who donated to me)
Friends
Viewing 12 of 142 friends
Journal
♥ Quests 『iTeM LiSt』
Um just some Organized Item List to help me keep up with all the items i quest for here on gaia Cx
Multimedia
Signature
[imgleft:8f22cd6b19]http://i6.photobucket.com/albums/y210/MiyaSakura/SmallNewAviArt_zps7118b7b7.png[/imgleft:8f22cd6b19]

[img:8f22cd6b19]http://tinyurl.com/75dad7l[/img:8f22cd6b19]
[❤] [b:8f22cd6b19]Art by Stelleia (ME)[/b:8f22cd6b19] [❤]

[♡][b:8f22cd6b19]I'm a Loli Doll...[/b:8f22cd6b19][♡]

[❤] [b:8f22cd6b19]Artshop[/b:8f22cd6b19] [❤]

[img:8f22cd6b19]http://i6.photobucket.com/albums/y210/MiyaSakura/StelleiaText_zps5888ea28.gif[/img:8f22cd6b19]
[♥] Deviantart [♥][/size:8f22cd6b19][/color:8f22cd6b19]