About
CYDNEY WAS HERE.
my name is Marky Creeper

I'm 20 birthday is may 9th :]
I am typically a happy person unless I'm around my father he does a lot to piss me off I move a lot and care for a lot of people. But I has someone so typically I am a happy person now :] I'm a huge meanie to Cydney :]
Oh and I like VAJITAS!! :]
I like to ride bikes
I go dumpster diving
I like to sew
I love Art It is my life
I love to plant things
I love animals
I like Cult Classic Horror
I like Psychobilly, Rockabilly, Folk Punk, 50's, 60's.
I miss Bettie Page D:
I HAS BEAVER FEVER
"If a man does not keep pace with his companions, perhaps it is because he hears a different drummer. Let him step to the music which he hears, however measured, or far away." Henry David Thoreau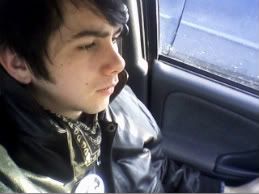 Journal
Art and avi's
Multimedia
Signature
;D
[img:34767be2b1]http://i51.photobucket.com/albums/f398/usedMCRfreak/mgif.gif[/img:34767be2b1]