About

Hi im dave im 6ft 4
I like to enjoy myself as much as possible and i generally get on with everyone.
I love to fish (if you didnt already no
wink
) on here mainly at durem in the 21+ fish rooms.
I hate beggers but i do help people who help them self (i.e people who can be bothered to actually post,vote and work for stuff).
THANKS TO:
Mystical Nightmare,Whispering In The Dark and I_Focus_On_The_Pain for the distance plus rod i got for my birthday
Lita2005 for being there when i was down and for being such a nice person, the clestial wrap and for looking after my bonsai tree
I_Focus_On_The_Pain (my little sister) for making my profile so cool
Vic88 (the real life g,f) for putting up with me for 2 years, making our holiday so great, for buying me a dart board, some were gloves and a thank you letter.
LOVE YOU LOADS BABE
Specail thanks goes to hyper_trunks88 for the great deal on the chain wallet
To Odins Choise for the Hard Shell Pack he got me for chrismas
(cheers dude
smile
)
To aquariuschick for the 2 gold braclets , the eygptian braclet and the gray striper helm
A big hug goes out to all my other friends who have helped me since ive joined.

FISHING TROPHYS :
10th place in aprils junk collecting
7th place in junes bassken fishing
7th place in octobers gambino fishing
RANDOM FISHING MOMENT

No setup it was just weird. we all had the top non-rare fish from each lake and sat in the correct order.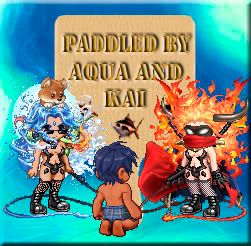 Friends
Viewing 12 of 60 friends
Multimedia