About
The name's Courtney betches 8D
Help me get this sweet delicious avi??
My art shop! >>>>>>http://www.gaiaonline.com/forum/art-shops-and-requests/squirrely-squirrel-s-oodles-of-doodles/t.52374933_1/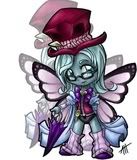 avi art drawn by Akdrea!
avi art drawn by xX_AngelOfTheOceans_Xx!
~Thanks Truthful Princess for the signs!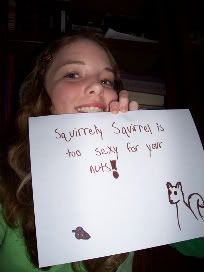 Thanks Toxic Sludge for the wonderful sign! <3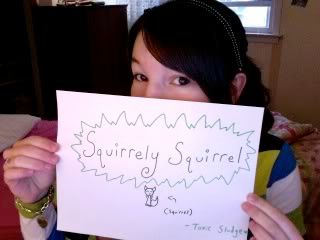 Thank you ImagintativeYetCliched!!
Love~~!
Do you have a Boyfriend/Girlfriend?
*yep!
What is there name?
*Brannan <3
Do you have a pet name for them?
*I call him dummy sometimes lol
What's the one thing that you love the most about this person?
*He's strong, brave, sweet, and knows exactly what to say
What's the one thing that you want to change about this person?
*nothing
Is there anything that you hate about this person
*I hate how he has to be gone for so long, but that's the army for ya
What made you like this person?
*his personality and how easy it is to talk to him
What do you like most on there body?
*uhhh everything...it's nice and becoming even nicer
wink
THANK YOU ARMY
Whats the first thing you saw on this person(physically)?
*his pretty face
biggrin
How do you truly feel about this person?
*I love him more than anything in the world
If you had one day, just the two of you, what would you wanna do with this person?
*go out somewhere nice and then, go somewhere private to do things ;D
Do you wanna spend the rest of your life with this person?
*yes...and he does too
If so, are you sure? and Why?
*I'm very sure. He told me everything at the lake...it was everything I ever wanted to hear.
Do you think you will ever fall out of love with this person?
*nope! He's everything I ever wanted
What do you like when you talk to this person?
*I like how I always smile when near him...how I can tell him anything
How do they make you feel?
*wonderful...like I am the most beautiful person in the world
Would you ever leave this person when they needed you the most?
*Never, he never left me
Do you two have a song?
*umm yea actually xD "I'm Still A Guy" it explains us perfectly
Is there another song that makes you think about them?
*Anything by the Rascall Flatts
Would you have sex with this person?
*yea...
If you you still have your v-card would you lose it to this person?
*yea
If you get married you going do it right then and there or wait?
*wait for sex? or wait to get married?
he wants to get married right after his first tour so in 2 years
smile
As for sex....I don't think he'll wait lol
Is there something that you think the other person doesn't get?
*not at all
Why would you wanna be with this person for ever?
*because he is everything I ever wanted physically and mentally
Is it a good thing that they came in to your life?
*YES
Are they your angle or devil?
*He is a complete angel, but he is a devil when he needs to be
Ever made out against a car?
*no
In the kitchen?
*yes
Given a hickey?
*yea...it was tiny though
Got a hickey?
*yes and I never notice them right away
Felt the "rush"?
*I think so if we are talking about the same "rush"
Where are your hands while making out?
*around his neck, head, chest, arms
The longest you've made out for?
*I have no idea!
Sexiest way to make out?
*every way!
Favorite place to make out?
*outside
Favorite place to be kissed( physically)?
*everywhere
Weirdest place to make out?
*I don't really have a weird make out place. I'm comfortable with it.
Last but not all,How much do you care about this person?
*So so much! I'm waiting two years to truly be with this person! I have to wait for him for most of my life! The things he says and does to me are amazing and I cannot ask for anything more. I want to spend the rest of my life with him and he cannot explain the feelings he gets around. We both make each other feel extremely happy
smile
<3
ABC About Me!!
A
- Available: Nope!
- Age: 18 ;D
- Annoyance: Cracking knuckles, mosquitoes, itchy spots, humidity, and time
- Animal: Squirrels
B
- Beer: I had a drink of Budweiser and it tasted nasty >p
- Birthday: November 25
- Best Friend: Brit
- Blind or Deaf: both
- Best weather: sunny, warm days with some wind
- Been in Love: I am still very much in love!
- Believe in Magic: who doesn't?? Only fags don't believe in it.
- Believe in Santa: believe?
C
- Candy: skittles and chocolate YUM
- Color: pink, that spring green, and light blue
- Chocolate/Vanilla: chocolate duh
- Chinese/Mexican Food: Mexican, I love spicy foods
- Cake or pie: depends on the pie
- Continent to visit: Europe or Asia
- Cheese: cheddar
D
- Day or Night: Night.
- Dancing in the rain: sounds like fun
E
- Eyes: hazel-brown
- Everyone's got: boobs
- Ever failed a class: no thank god
F
- First thoughts waking up?: *closes eyes again*
- Food: anything with hot sauce
G
- Greatest Fear: ghosts
- Gum: the red kind...it's like cinnamon or something
- Get along with your parents: yea
-Goals: marry, graduate college, be happy
H
- Hair Color: Dark reddish brown
- Height: 5'4"
- Happy: pretty much, but I would be even happier if he was home
- Holiday: Christmas
- How do you want to die: in my sleep or by something incredibly awesome
I
- Ice Cream: chocolate an moose tracks
- Instrument: flute and french horn
J
- Jewelry: brannan's class ring
- Job: babysitting
K
- Kids: 2-3
- Kickboxing or karate: neither
- Keep a journal: yes, but I need to write in it again
L
- Love:is beautiful
- Laughed so hard you cried: not yet, but I have had moments where all I do is laugh at everything
M
- Milk flavor: chocolate
- Movies: UP
- Motion sickness: If I read, draw or write in the car
- McD's or BK: McD
N
- Number: idk 2?
O
- One wish: I hope he comes home safe and sound
P
- Pepsi/Coke: Pepsi
- Perfect Pizza: Peperoni with banana peppers
- Piercings: None yet
Q
- Quail: SQUAWK
R
- Reality T.V.
biggrin
aisy of Love and Charm school
- Radio Station:92.5 and 99.9
- Roll your tongue in a circle: not that talented
- Ring size: 6 or 7? I think it's a 7 unless I'm thinking of my feet
S
- Song: Chicken Fried *sings it*
- Shoe size: 7
- Salad Dressing: French
- Sushi: yum
- Shower: Every morning
- Strawberries/Blueberries:strawberries
T
- Tattoos: saving for one right now
biggrin
- Time for bed: has been at like 1 am lately
- Thunderstorms: relaxing
U
- Unpredictable: probably not
V
- Vacation spot(s): somewhere near an ocean/lake
W
- Weakness: cute things ( like puppies, or adorable little kids)
- Which one of your friends acts most like you: probably PepsiBunny 2 just cause we live together
- Worst feeling: when you miss some one terribly...
- Worst Weather: Apocalypse...tons of bad weather then am I right?
X
- X-Rays: just the teeth
Y
-Year it is now: 2009
-Yellow: color of the sun and pee
Z
- Zoo animal: fish, birds, lions rawr