About
Hey im Josh. 19, usa, alabama. Im the one guy from alabama that likes stuff other than nascar..
peace~
-------------------------------------------------------------------------------------
RP CHARACTER
Name: Grand White WOLF
Age: Unknown
Gender: Male
Race/Species: WOLF
Height: 5'9"
Weight: 175 lbs.
Eye Colour: Icy Sky Blue
Etc: A wolf who has always been, and always will be, he has wandered the Earth's snowy and icy landscapes, wherever they may be, searching for answers and looking for something that can never be found.~ This wolf isnt a violent, nor sociable one, preferring to stay at a distance from everything and everyone, observing, and learning.. He has soft, radiant, beautiful pure white fur, with a long, graceful, elegant tail, approximately 4 feet long.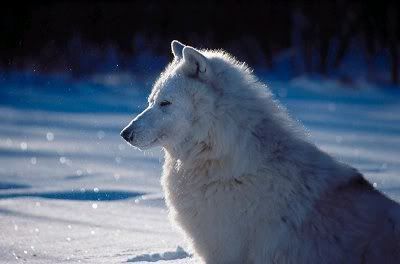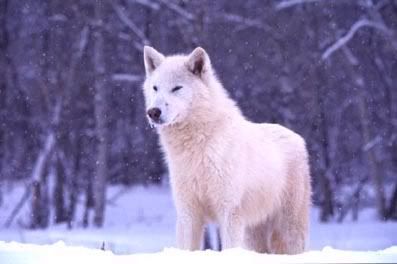 -------------------------------------------------------------------------------------
Name: Davy Jones
Age: Unknown
Race: Human/Multiple sea creatures
Height: 7'9"
Weight: Approx. 230 lbs.
Eye Color: Blue
Weapons: Flintlock pistol, Cutlass, left hand is a giant crab claw, right leg is a crab leg
Profession: Captain of the Flying Dutchman, Guide for souls lost at sea.
Background: Davy Jones was born in Scotland; nothing is known about his youth. He fell in love with Calypso, the "heathen god[dess]" of the sea who gave him the charge of ferrying souls which died at sea to the "other side". Calypso gave Davy Jones the Flying Dutchman to accomplish this task. Her reason for this is unknown. She swore that after ten years she would meet him and they would spend one day together before he returned to his duties. He kept to his charge for ten years, knowing he would see his love again. Calypso however, after those ten years, failed to show up because of her capricious nature, which had drawn Jones to her in the first place. Enraged and heart-broken, Jones turned the Pirate Brethren against her, saying that if she was removed from the world, they would be able to claim the seas for themselves. They assembled in the First Brethren Court and Jones taught them how to imprison her into her human bonds; the Court agreed with him to imprison her forever.
Jones then proceeded to rip out his heart and place it in the "Dead Man's Chest". Containing a powerful lock, the Chest was sealed and placed within a larger wooden chest along with Jones' numerous love letters to Calypso. This was then buried on Isla Cruces, a plague island. Jones then departed, keeping his unique double-stemmed key to the Chest with him at all times. Since then, Jones has abandoned his post and sailed the seas, making deals and doing as he pleased. Though immortal, his disregard for his duty brought punishment, mutating him into a parody of humanity, and with him his ship and whomsoever served on it. The lore of the "feared Flying Dutchman" begins as Jones' eerie ship sailed about destroying ships to recruit for crew. With his supernatural power, he becomes ruler of the oceans' realm and comes to command the Kraken, a feared mythological sea monster.
Personality: Davy Jones is highly ruthless and sadistic particularly to his crew, believing that every human should suffer in the after-life with much pain. This is shown by his proclamation of "Life is cruel. Why should the afterlife be any different!?". Despite Jones' vicious nature, he has appeared to be deeply influenced by situations involving love and passion as a result of the ruined relationship he had with Calypso, the sea goddess, in the past. His passionate nature is rarely shown to others, such as when he plays his melodic music on the pipe organ whilst shedding a single tear over Calypso and ultimately meeting her aboard the Black Pearl.
Jones possesses a locket that plays a distinguishable melody, and he is known to play the same melody on his pipe organ.
Unique Strenghts and Powers:Though normally relying on the strength of his crew, ship, and the Kraken, Jones has proven quite powerful on his own. He is a brilliantly skilled swordsman and can easily break swords with his crab-claw hand as well as defeat everybody that opposes him. Jones is capable of teleportation on board the Flying Dutchman and the Black Pearl and can pass through solid objects, although he is never seen going through people. Having no heart, Jones is immortal, capable of surviving fatal wounds. Jones can also track any soul that is owed to him using the black spot, which any member of his crew can give, but only he can take back.Should any part of him be removed, such as cut off, etc, that part shows loyalty toward Jones and, by itself, moves it way back towards Jones to grow back onto him, or to go wherever he may desire it.
Jones has also the power to control and call forth the Kraken, a sea monster which can destroy ships upon command by Jones.
Because of his curse he is unable to come unto land, although he can stand in buckets of water, etc. to put a loophole through the curse. Because he can only go on land once every decade, Davy Jones sends his crew to accomplish whatever task he needs done on land.
Etc.: As Davy Jones was appointed by Calypso to be the one to use Flying Dutchman to ferry the souls of those who died at sea, he cannot die without a successor. This is expressed with the phrase "The Dutchman must have a captain"...