About
As a child I grew up hating both my mother and my father, for neither cared a cent about me. In fact, I was raised being treated as a problem child. No matter how hard I worked, how well I did, how much I studied, it wasn't good enough for them! I'm sure you'd understand why I came to the conclusion that they despised children. It is for this reason that I practically leapt out of my skin when I was informed that my mother was pregnant with a second child. Maybe they figured things would work out for them better the second time, I don't know. In any case, I was more than slightly surprised. I was about ten years old about the time my little sister, Kumari was born, and she soon became my soul purpose of living. If it weren't for her, I doubt I would had the will to continue, but just knowing I had a little sister, helpless and desperate for my aid, really made me see life in a whole new light. I like to think that I also saved her little life, but I'm not quite sure. Five years after her birth, I stole away in the night with Kumari in tow, completely aware that the only way to protect her was to keep her away from the despicable man who called him self my father. I managed to find her a haven with a kindly old woman who was lonely and more than willing to care for her. I knew that at that time, leaving my sister was the only way to protect her from our parents. Three years later, I discovered the birth of my youngest sister, Arisu. By that time, I was too far away and ill equipped to do anything to help her, and it made me ill. I could only pray that Kumari was able to help her, but she wasn't that old herself. Several years later, I had the opportunity to attend the academy, and was quickly recognized as one of the top students. Because I entered when I did, I was even able to witness the first few years of Kumari's schooling. I was then placed in the ninth division along with one of my best friends, Shuhei Hisagi. It wasn't until years later when Arisu was assigned to be captain that I became a Vice Captain in the fourteenth squad.
My pride and joy, currently is my Zanpakto, Hichojiro, although she can be quite difficult at times. I enjoy tea, I despise all sorts of Saki or other alcoholic beverages, and I love to play the Koto, though I'm told I'm not that great at it. If you hear any of those nasty rumors about me Liking Momo Hinamori, it's a lie! I swear! In any case, you're more than welcome to message me if you'd like, but if you have nothing worthwhile to say, just don't.
Here's my dream avi... or rather, what I'm supposed to look like.
these two are my daughters.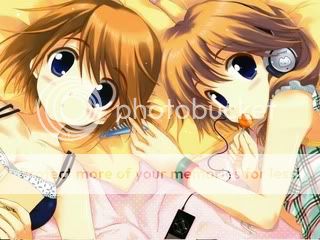 Our names are: Aika and Tori
My mama/papa is: Hajime
i like: music, sweets, cute cloths, writing/paiting
i dislike: stalkers, Aizen, most veggies
YOU CAN ADOPT ONE TOO AT:
Adopt a Baby!
Friends
Viewing 6 of 6 friends
Signature


I'm warning you now, don't mess with me.