me and my me-ness
I have wonderful friends and adopted family whom I am very protective of. I have come to see myself as the defender of the my clan, to cross me is to bear the full weight of my wrath. I seek to make them laugh and tend to be a problem solver... however, even I seek solitude and refuge from the world, hence why this profile exists.

I take my obsessions very seriously and do not wax and wane in my affections... those on my list of obsessions are Shikamaru Nara, Drizzt Do'Urden and Legolas Greenleaf.

Additionally, I love reading... I'm a devoted fan of Tolkien, creator of Lord of the Rings and Middle Earth, and Salvatore, creator of Drizzt Do'Urden and his faithful adventurous friends.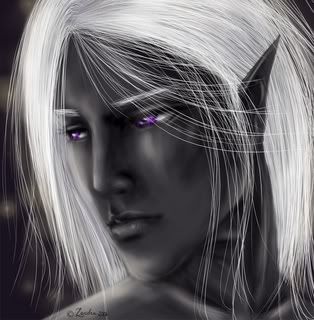 Drizzt Do'urden
"Come away oh elven child, To the waters and the wild for the World is more full of weeping than ye can understand..."
My newest quest
Total Value: 553,462 Gold