Skullek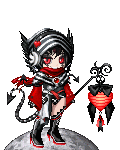 Details
Birthday

07/09
---
Interests
Favorite Movies/Anime
Favorite TV Shows
Favorite Reads
Favorite Music/Bands
Hobbies/Interests
About
ninja
), i'm some goth-punk-gamer-geek combination, and i plan to design videogames as a career.
My likes: i enjoy books and videogames and art,, i love popcorn and pixie stix, i like windchimes and sparkly glass objects.
also, i like typing run-on sentences just to annoy people. ;D
My dislikes: i hate people who sneeze within a one mile radius of me, i hate the twilight movies(UGH i saw the 1st one and almost gouged my eyes out. the books were ok, but the movies...?
burn them
.), i hate burnt popcorn, pervs, preps, and tootsie rolls.