About
Im Cody McKinney im 17 im a very likable person after u get to no me. I listen to alot of screamo and christian screamo. I luv skateboarding, being out of the house, hanging with mi friends, and driving.i dont really care wat ppl say about me behind mi back. By the way im about 5'9" nd im a skater. i dont care if u call me emo. Wats so bad about being emo. I have 6 BROTHERS and 1Sis. I luv Being random. Yeah im very nice After u get o no me. im not afraid to say this bt im very sensetive. Ne way thats bout wat i can say about me. bt if u want no more about me just ask.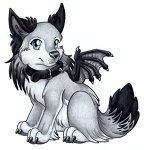 I adopted!
Name:Kaiden
Age:1
Likes:his owner, sk8boarding, nd owners friends
Dislikes:hippicrits
Owner:Cody Andrew McKinney
Get one now!