About
Above all, one must always remember that it is a horrible feeling...to die alone. Wanting forgiveness for your sins, knowing as you take your life, you never will be...Life is full of obsticals and one must think that they are just another blow of the hammer...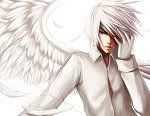 Friends
Viewing 3 of 3 friends
Journal
Sir Knight Balmung's Hidden Truths
Sir Knight Balmung
*sighs* I do not know what to say in these. I guess they are smiply putting my thoughts on paper?
Multimedia
Signature

I will fight until my last drop of blood stains the ground. For you, my princess, I will die fighting.