About
-Jonathan "Scarecrow" Crane-
"--Tell me What do you fear? 'Indifference donning mourning shroud, cutting all the mortals down, opposite to birth and life, filling the world with pain and strife. What am I?' Obviously Death...Riddler could tell you that, Death... you fear death..."
The person who made me who I am...: Why me of course silly! I am THAT amazing!
My Mother calls me..: She doesn't call me anything... she's dead
But I prefer to go by...: Scarecrow
However, I have also been called... King of Fear, Horror, Master of Fear
Age is just a number, which happens to be...: 37
I was born as a....: Male, heir to the cities fears
My current place of residency: Gotham City, anywhere and everywhere
One of my goals for the future: Rule Gotham completely...no! The world, I can do that...why set my sights for anything less?
I prefer the company of...: Doctors, Inventors, and Geniuses, really anyone who has an IQ over 180 will do...
This song about sums me up...:
'Dance of the Knights' by Prokofiev, my favorite classical maestro
This is just a bit about myself....: Born and raised in Waterbury, by a loving Mother and Father, who always only wished the best for me, who pushed to strive me to go further and further with my intellect. They discovered I was a prodigy when I started reading at the age of four, moving swiftly onto college grade texts at the age of seven. Once I turned the tender age of ten, I was placed into a vast array of programs that boggled and worked the mind, music...string instruments like the violin, and the keys. Chess playing, writing sheet music, dictating mathematics and quantum physics. However my secret love was always for tricks, and games, I constantly longed to know what made the world tick, what broke them, what they feared. It has always been my goal, my challenge, to constantly push the limits of Mans simple mind, to try and achieve more, to watch them fall like the frail animals they are. When I grew to adulthood, a brief stint in the 'working class' proved terribly dull and uneventful, I needed more...and so I began my studies... it has never been about wealth and good fortune, I live in a Rat infested Asylum for Christ sake... its always only been about my research... care to be my patient?

My Strengths... Intellect, wit, weapons master, clever, master manipulator, Gadgets, fear gas, escape artist, agility, leadership, stealth, swordsmanship, tracking...
My Weaknesses... Well what would be the fun in revealing that? You'll simply have to find out now won't you?

I've always prefered to walk the path of...: Evil I suppose...its always only been in fun and games though, sometimes you just have to crack a few eggs to make an omelet...
When I fight I tend to use....: Fear, fear can break down a mind easily, warp anyone into anything I want... and then I can destroy them.
I always try to look my best...: Green, blacks, and brown... a shroud, like Death... a scythe like the Reaper...
It had always been like this, a waiting game... he didn't mind waiting, not one bit... he was a patient sort of man, very reserved, perhaps that was one of his virtues, one of the few... to the victor goes the spoils, early bird gets the worm, he was a silent predator, cunning, and ruthless, the world was his oyster, and every sentient being within it his loyal often unwilling test subjects, they had to be unwilling... no need studying fear with a willing mind, the results were tumultuous at best. Above him the rain poured from a gaping wound in the sky, spilling forth crystalline tears like sadness at a Sunday funeral, on occassion lighting flashed, sparking dashes of light over a crooked figure bent in the alley, slender and emaciated like a living skeleton swathed in tattered robes of swamp green and brown. From the pooled darkness where his face would have been cloaked by a burlap hood, glowed three menacing emerald eyes... hellish and demonic. And if the good Doctors appearance wasn't frightful enough, one would squeal in fright over the gleaming scythe, a vision of death itself like the embodiement of the reaper pinned neatly along his back. His unfortunate prey for the evening was a young couple, newlyweds his research had told him...Jackson and Diane... sickeningly somewhat like the song, the vision of cheer turned his stomach, watching as they huddled close together moving swiftly under the cover of an umbrella... 'Funeral' the wind hissed, speaking in words only he could hope to understand... and as they passed closely by his alley... he swiftly followed after them...

A shadow had suddenly swept over the couple, screams in pitch darkness, darkening hearts, twisting knots in throats... darkness, and swirling shadows... with a scream Diane suddenly awoke, frantic as she taste a mouthful of dirt... tears and snot streaming down her face, makeup running... fingers sore and bleeding, once more the lightening flashed... she was in a hole... and above her... a gravestone... settled upon it, perched like some demonic springheeled Jack... 'Jackson!' "--Where the ******** is he!? Who are you!? What is this what do you want!?" she cried, "--Coffin, you're in a coffin pet... and... Jack..." he hissed, speaking the word like it was not one mentioned in polite society... "--He lies not but 5 feet from you..." a pause again, and a hideous smile from behind his gas mask... "--Buried alive... can't you hear his screams?" and when she listened closely she could... muffled, distant, and weak, shrieks of pure terror, of anger, the skrtch of nails along wood as he fought to free himself from his tiny prison... "--Oh my god, oh my god..." instantly she began to hyperventalate... and while she panicked unable to move... drugged... he studied it all, jotting down notes casually as he glanced to others... hired help, "--Bury her..."
[[Yes! I RP, please consult me whenever you wish...]]
"--Working stiff fashion, simply does not suit me...refinery, consider it a middle name..."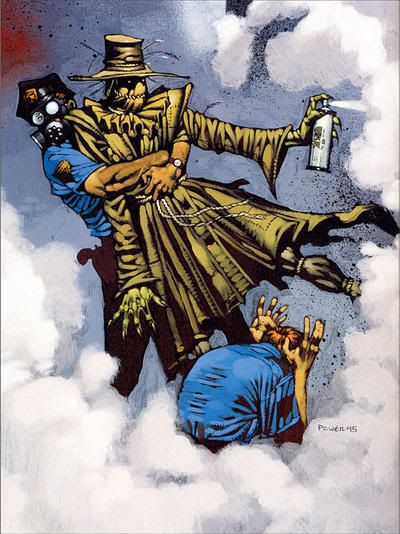 "--Gods I love to tamper with them, what precious little playthings these people are, like silly little dolls...they are meaningless, but with my help...I give them purpose..."
"--With a mind like mine, the world is small...so very teenie and convenient, from the four corners I can see it all, I can know everything...this city is minute, trivial, and it, and everything inside belongs to me...and only me..."
"--When the world finally ends, it won't go out in a bang, but a whimper...and I will be the one to silence it, laughing...Thank you Gotham, its been a wonderful Game..."