I'm not special. I'm just your average person.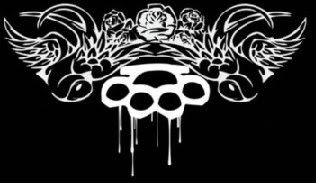 "Life without him is like a life without a heart.

So call me heartless."

Amber,

Her nickname is Midget Mac.
Her pictures are old as ********.
She's working on getting new ones.
Skateboards.
Loves bows.
Plays guitar.
Loves energy drinks. (Preferably Monsters)
Can't ever keep her hair the same for long.


Is in love with the most amazing guy ever.


Favorite TV show is Invader Zim.
Crush is her favorite soda.
Has watched ever horror film Block Buster has.
Is in love with Hello Kitty.
Music is her life, Drug, Love.
Doesn't label herself.
Twilight series is her favorite book's.
Is very random.
Hates her name, And want's to chew off her mom's hand for naming her Amber.
She is never quiet,
Unless there is something upsetting her.
Blue ice cream is her favorite food.
She always wears concert t's.
Her socks never match.
The show mXc makes her laugh till she's crying.
Is four foot teen.
You would never see in her in flare jeans.
She always wears skinny jeans.
Laughs at almost everything.
Her favorite thing to watch on youtube is Smosh.
Loves making people laugh/smile.
Hates PE.
And loves PM's and comments.
So, Message her sometime.


Jazmin,
I'm so happy you aren't moving.
=D !!
Anyways,
I'd like so say a few words.
Thank you for being here for me.
For putting up with my bull s**t.
For just sitting there and listening to what I have to say.
Thank you for understanding me.
Thanks for being there to hold me when I cry.
Thank you isn't enough.
I wish I had better words to explain.
I owe everything to you.
I ******** love you.
You're the most amazing friend anyone could have.
<33
Yes Jazmin,
You're mahh bad girlfriend.
;D


Wil Dotson was born May 16th, 1994,
Died February 26th, 2009.
</3

2-26-09
Wil,
I wish this never happened.
Only if you could see how many people you effected.
Going to your funeral was heart breaking,
But it was worth seeing you for the last time.
The things I'd do to bring you back to life,
But I know I can't do that.
And knowing that kills me.
You shall always be remembered.
We love and miss you.
<3

GONE, BUT NEVER FORGOTTEN.

Trevor Turnbow,
You are my best friend.
I can't picture myself without you.
You are apart of me.
I'm happy you got my number.
Or else we wouldn't be what we are today.
I would just like to say thank you.
Thank you for:
Keeping me out of trouble.
Staying on the phone with me until one in the morning talking about pointless stuff.
Thanks for just being there for me and listening to my unimportant words.
There are hundreds of things to thank you for,
But it'd take my whole life to type them down.
You're like my favorite drug.
And I'm addicted.
I love you.
Haley.
You're my little step sister.
I've grown so attached to you over the years.
I remember when we were holding this toy that had two dogs hugging each other and under the dogs said, "Friends Forever."
We weren't sisters yet but I remember you saying,
"Promise me we'll be friends forever."
It was one of the sweetest things you have ever heard you say.
Thank you for being there for me and trying to make me happy.
It means a lot.
I'm glad I'm the only one you tell your secrets to.
It makes me smile.
I love how you laugh at everything I do.
I'm always going to be here for you.
I. Love. You.
Hey Haley. Haley. Hey Haley. Guess what?
I'M SO HAPPY BECAUSE I'M A GUMMY BEAR!
GUMMY BEAR!

Kourtni.
I know we just met,
But you're awesome.
I can't believe I hated you so much.
Sorry for being such a b***h to you.
I feel so bad.
: (
What the hell was I thinking?
I'm glad I got over my hateful side and got to know you.
We have a lot in common.
I hope our friendship grows.
Anyone messes with you,
Tell me who they are.
I'll have them begging for their lives within seconds.
I'm always here for you honey.
I'm here to wipe away your tears and to make you smile again.

Pookie.
I love you with all my heart.
Love isn't even strong enough.
I can't live without you.
You make me feel like no other person has.
Whenever I talk to you everything seems to stop.
All I see or hear is you.
Without you I would have no reason to live.
When I get a text from you I want to scream with joy.
I love talking to you.
Even if it's about pointless things.
You never fail to make me smile or laugh.
When you hug me I just want to stay in your arms forever.
You have whats left of my heart.


I will always love you.


I swear.
The day I stop loving you is the day I die.
And even then I doubt I'll stop loving you.
I love you. I love you. I love you. I love you.
I absolutely love you.
<3<3<3<3