SilentBreeze90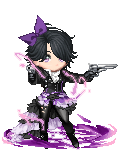 Details
Location

somewhere out there......

Gender

Female
---
Interests
Favorite TV Shows
Favorite Reads
About
Hello and welcome to the inner workings of the mind of Breeze. If I already know you, then hello and leave a message. If I haven't met you yet, then... hello and well met? Unless you don't plan on meeting me, in which case, hello and enjoy your stay on my not quite as boring as it used to be profile.
Right, so if you're here, then I assume you've seen me in some way shape or form around this website, and have come to investigate. Well, I wish you luck in your investigation, though I sincerely doubt you'll find much worth your time unless you're looking for a rp to join, in which case I suggest you apply to
Caelesti's Profugi
which I am currently a crew member of. It's a really nice place, and the rps are fun if you're literate and like your rps to be on the same level of literacy of a novel.
Other than that, I really haven't got much else to say, and if you're still looking to learn about me, you'll have to use those many deductive skills you've heard about and try to apply them as you read my posts. Or you could just talk to me.. I don't actually bite. Enjoy!
Caelestis Profugi: