About
I'm a tattoo artist.
I love rping. LOVE IT. I'm a character whore, and if I get the chance to play expect very colorful characters.
I have what most people think is a ton of pets aka zoo. My extended family includes Torque the little brother cat, Goblin, a*****e cat, Newt the dumb cat, Duffy the idiot dog, and two 55 gallon fish tanks with about 17 different fish including 5 different species. I am dying to get a pie bald ball! I now have a normal ball python named Conway and a lemon pastel names Ninel. I'm married and saving up for a house. And generally have an insanely fun life.
Art is my life.
I'm tattooed and have a labret and stretched lobes.. I'm looking to get more ink when I can afford it.
I'm a huge scifi/fantasy fan! Especially Aliens, so much so that I collect the toys and and got a xenomorph tattooed on my arm.
If you want to know anymore ask me!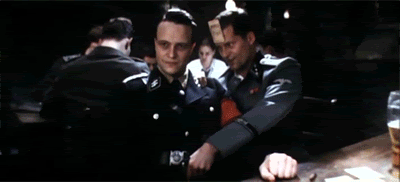 "Say Aufwedhesen to your Nazi balls"