About Me

Hello there. I am Shia_the_demon, Shia for short or STD. It is up to you. My old user name was These_boots_were. I hang out in the Exchange forum and I am Q&A and GD forum regular. If you have a question about something, feel free to ask me. I would be more then happy to help you in anyway possible. ^^
NOTE: DO NOT PM ME ASKING FOR DONATIONS! SINCE IT IS IN MY PROFIlE, I CAN ON GAIA RIGHTS REPORT YOU!
Sorry, it just gets annoying.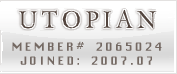 OMG! I found my really old quest!
Here
I love art but, I never have the money to pay for it. However, my friends donate art to me. So, here is the art:












UTOPlAN
Our fourth award...
UTOPIAN SPIRIT AWARD is awarded to The person who shows the most Utopian spirit, and the most generous and giving.
This award goes to
shia_the_demon
!
Shia is an extremely generous Utopian, known to host various contests and giveaways of her own here in Utopia. We are extremely pleased to see the spirit of charity being spread to our members, and we are proud to present her with our UTOPIAN SPIRIT AWARD.

Your award will be sent via gifting, and congrats again! Please save the certificates to your own host, thank you!
OMG! Thank you Utopian and all the other Utopians. This means a lot to me. Really. TT__TT I can't thank you guys enough.
Long names I have given people:
Bloodgood:
Jemaline Ferdenan Oliver Beriest the 3rd of the 4th generation of the whiningtons 3 times removed from lord porselsnap with 3429 cousins and a 232345234 cats because he turned into a she who was a spinster of the 34th state of the world of kansas in michigan kentucky or bush or cheny decendent of 3453 people tracing back to the creator of life, king porkselplak the 3rd of 23452 porkselplak in the ninthe year of the thenth day
Sira_Black:
Jenifer princton quigle joent of the 6th republic of banana hamman bunananum of King sicles of the syther family and queen Princess of the royals who never won a game but are still good players for being nice but sometimes get mad but that is okay because we love them anyway of the jo sha dynasty of king chick lets who was known as lord of the dance in the river mile along the there is a party in my pants house of the third dynasty