About
Something about me:
Nickname:Shendijiro, Shendi, Shen, Tiger,Zeke,
Age: 19
Fav.Color: Metal Blue, black,blue,white
Games: Metal Gear Solid, Call of Duty 4,Modern Warfare 2, Halo 3, Guitar Hero, Dance Dance Revolution, Kingdom Hearts, Final Fantasy,Super Smash Bros,Gears of War,Assassins Creed, Soul Calibur
Game Console: PS2,PS3,Xbox 360, PSP, Game Boy Color and Advance SP, Computer ( duh ! ), Sega, Super Nintendo, Nintendo 64.
I make AMV so if you want one just ask me for one
Avi Art :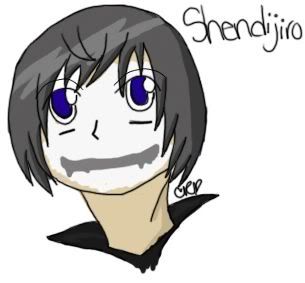 made by :Axident Prone
I like avi art make me one ?
Friends
Viewing 3 of 3 friends
Journal
Universe of Phantasy and more
Pictures and my new story of Shendijiro Takahashi and his friends on a new aventure on how they meet up :3
Multimedia
Signature
[img:b4192b4056]http://i256.photobucket.com/albums/hh197/Nick_Zeke/ZackSig.png[/img:b4192b4056]
www.shendijiro.deviantart.com