About
ShadҘ
Ⓣнє Șεɾρεɲȶȿ Ҫћɨȴȡ .
▔▔▔▔▔▔▔▔▔▔▔
❦
▔▔▔▔▔▔▔▔▔▔▔▔▔▔

♥ ♥ ♥ ♥ ♥ ♥ ♥ ♥ ♥ ♥ ♥ ♥ ♥ ♥ ♥ ♥ ♥ ♥ ♥ ♥ ♥ ♥ ♥ ♥ ♥ ♥ ♥ ♥ ♥ ♥ ♥ ♥ ♥ ♥ ♥ ♥ ♥ ♥ ♥

≈≈≈≈≈≈≈≈≈≈≈≈≈
ℳy, how bold you are! Ʈaking a look at a woman's…


---------------------------------------------------------------------
Shade is a mysterious woman whose looks and actions very much describe her fiery dangerous personality. She often leads the unexpected into "compromising, dangerous, and deadly situations" without much thought, and little sympathy.
╔══════════════╗
Ⓑirthdate
• Ɉune 25th ♋
╚══════════════╝
╔══════════════╗
Ⓐge
•33
╚══════════════╝
╔══════════════╗
Ⓖender
•Female ♁
╚══════════════╝
╔══════════════╗
Ⓗeight
• 170 cm / 5'7"
╚══════════════╝
╔══════════════╗
Ⓦeight
• 54.4 kg / 120 lbs
╚══════════════╝
╔══════════════╗
Ⓑlood Ⓣype
• B
╚══════════════╝
╔══════════════╗
Ⓒlassification
• Missing-nin
• S-Rank
╚══════════════╝
╔══════════════╗
Ⓞccupation
• Leader of Otogakure
╚══════════════╝
╔══════════════╗
Ⓐffiliations
• Konohagakure

• Akatsuki

• Otogakure

╚══════════════╝
╔══════════════╗
Ⓑonds
• Raven Uchiha/Hyuga
• Gaara
• Neji Hyuga
╚══════════════╝
╔══════════════╗
Ⓕamily
• Orochimaru
╚══════════════╝
╔══════════════╗
◯ Nice
✔ Naughty
╚══════════════╝
The Past
Ⓑirth~
The humid month of June. Everything now grown, life abundant. Trees tall and covered in emerald jewels. It would seem that darkness didn't belong in such a beautiful month. A rouge ninja known as Orochimaru had been messing around with forbidden jutsu,desperate to create a perfect heir to his growing throne. His intention was to splice his DNA into one being; And that he did. Born to an artificial womb Shade was finally birthed on the 25th. Her slime-covered wailing little body was placed in the care of Kabuto, who raised her until she was old enough to walk and talk.
Ⓒhildhood~
With Kabuto schooling the child and Orochimaru starting her on jutsu at the age of 5, Shade was forced to grow and learn quickly. Many countless trials and errors weighed heavily on the girl, and she was left to drown in her fathers disappointment. By the time Shade had reached 10, her chakra control had sharpened as well as her tolerance for pain. She started to surpass the other children her father ran tests on, and finally gained his approval. Noticing his daughters sudden growth, Orochimaru placed his curse mark, leaving Shade to withstand hell while locked away in a dark cell. The survival rate was low, but she survived and continued her rigorous training.
Ⓣeen~
By the age of 13, Shade had grown into a fine young kunoichi. She was able to weave intricate jutsu and hold her own against older shinobi. It was a dark year for Otogakure though. The neighboring fire country had learned of Orochimarus hideout and hideous experimentation. His lab was raided by an elite force of anbu, and Shade was taken from the crossfire by kabuto. They then fled to a far off region to prevent the world from learning of her existence. What happened to Orochimaru is unknown. As for Shade on the other hand...

------------------------------------------------------------------------
Standing at 5'7", Shade's very presence screams serpent. She has extremely translucent pale skin and tight wire-like muscle layered on her lithe body. She has small supple B cups, usually bound down by a layering of fishnet or gauze wrap, and smooth feminine curves. Her hips fan out, accentuating her backside and thick thighs. Shade has the sharp face of her father, but her contradicting plush lips and dark lashes clash to make a fierce doll-like look. Between her lips sits a nice set of pearlescent fang-like teeth, accompanied by her massive fleshy tongue. Her irises are a deep golden and emerald mix, flecks of the two colors interchanging in her cosmic eyes. Her pupils are small slits, capable of dilating to twice their size. She also has silky straight waist-length dark brunette hair with the front strands falling to her shoulders. On her right arm she bares the the mark of a summoning pact with the serpents, while on her left shoulder shes adorned with a cure mark.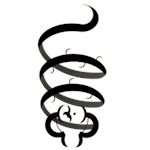 •.¸¸.•´´¯`•• .¸¸.•´¯`••.¸¸.•´´¯`•• .¸¸.•´¯`••.¸¸.•´´¯`•• .¸¸.•´¯`••.¸¸.•´´¯`•• .¸¸.•´¯`••.¸¸.•´´¯`•• .¸¸.•´¯`•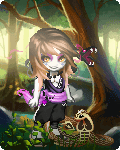 "She looked tense, her back ridged and upright, her eyes dark and narrowed. If one were to look quickly enough, it would seem like the legendary sannin himself was seated there. Shade pushed back her dark brunette hair, the long waterfall looking almost black against her cream colored outfit. Her attire was strikingly similar to the late Orochimaru's, although there were apparent altercations due to her gender. Where Orochimaru would of had black material around his neck and arms, the outfit had been cut of that. Instead, a tight laced fishnet could be seen under the cream loose V-neck. Shade's arms were bare, aside from the black tattooish etchings of what looked to be a summoning pact with the serpents on her right arm. Lastly, the usual tied purple knot was instead a light lavender silk that was tied around her waist, keeping her fluttering top nicely pinned when she moved about. The untied lengths of the silk draped down to about her knees, floating around her delicately as she moved about doing her day to day things. The cream cover stopped right at her hips instead of down to her knees like her fathers, and from there, classic black shinobi wear down her legs, with the usual bandaged ankles and flat sandals."

≈≈≈≈≈≈≈≈≈≈≈≈≈

Physical
4
/
5 Agility4
/
5 Speed3
/
5 Strength
Mental
3
/
5 Intelligence4
/
5 Chakra3
/
5 Talent
Social
3
/
5 Charisma4
/
5 Leadership3
/
5 Sexuality