sesshomarusecretlove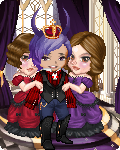 Details
Gender

Female
---
Interests
Favorite Movies/Anime
Favorite TV Shows
Favorite Reads
Favorite Music/Bands
About
When the phone rings, I put it to my ear without saying hello. In the restaurant I point at chicken noodle soup.
I am adjusting well to the new way.
Late at night, I call my long-distance lover and proudly say: I only used up fifty-nine today.
I saved the rest for you.
When she doesn't respond, I know she's used up all her words, so I slowly whisper
I
love
you
thirty-two and a third times.
After that, we just sit on the line and listen to each other breathe
-
Anime Cons:
Anime Expo '08
Otakon '09, '10, '11, '12, '13
Anime Vegas '08
Anime Wasabi '08, '09
Anime Banzai '07, '08, '09
Anime Oasis '10
Anime Tomodachi '09
Anime Matsuri '10, '13
ComicConSLC '13
-


Take the Magic: The Gathering 'What Color Are You?' Quiz.
You Are Dreamy and Distracted

You are very intuitive and wise. You understand the world better than most people.
You also have a very active imagination. You often get carried away with your thoughts.
You are prone to a little paranoia and jealousy. You sometimes go overboard in interpreting signals.
You are well rounded, with a complete perspective on life.
You are solid and dependable. You are loyal, and people can count on you.
At times, you can be a bit too serious. You tend to put too much pressure on yourself.
You are friendly, charming, and warm. You get along with almost everyone.
You work hard not to rock the boat. Your easy going attitude brings people together.
At times, you can be a little flaky and irresponsible. But for the important things, you pull it together.
You are relaxed, chill, and very likely to go with the flow.
You are light hearted and accepting. You don't get worked up easily.
Well adjusted and incredibly happy, many people wonder what your secret to life is.
You are usually the best at everything ... you strive for perfection.
You are confident, authoritative, and aggressive.
You have the classic "Type A" personality.
You tend to be pretty tightly wound. It's easy to get you excited... which can be a good or bad thing.
You have a lot of enthusiasm, but it fades rather quickly. You don't stick with any one thing for very long.
You have the drive to accomplish a lot in a short amount of time. Your biggest problem is making sure you finish the projects you start.
What's Your Name's Hidden Meaning?
-
Guilds:

-
Stuff That's Awesome?
Bad FanFiction Ideas
Friends
Viewing 10 of 10 friends
Journal
Diary of an Angsty Naruto Writer
ever wanted to know what goes through an angsty writers head? a NARUTO-based angsty writer? here is what goes through our messed up minds.