serotonic drink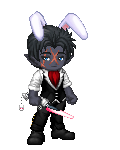 About
the-people-I-don't-know-and-has-stumbled-into-my-profile *exhales* and yes that means you. Hey smile

anyway, I'm kinda like one of those kind that loves to be in the crowds and still appreciate the down-time with few selected friends. heart

I'm pretty much laid-back and *ahem* wild wink even for someone who's suppose to be serious and stiff -but I assure you, I will instill discipline when time calls for it-

and I'm 14 if you must know, and I can hold a conversation well with almost anybody... when I feel like it haha but don't be discourage, I don't bite without a reason.


Journal
Elven ninja Log
Entry 1.02: Reboot. Current time is Unkown. Current location is Somewhere deep in the Dark woods. Fortunately not hopelessly lost. Because no one knows these Parts of the Woods better than me. -Sionee Knight