About
MY NAME iS:SARAh CAll ME SiENNA
MY HiEGHt iS:

5'4

5'6 iGREW ;DD
i AM: MEXiCAN
My NUMBER# : ASk fOR iHt(:
FAVORitE COLOR: PURPlE (OF COURSE)
MY BURfDAY iS: jULY 18tH PRESENtS??(;
StAtUS: [x] SiNGlE [ ] TAKEN [x] HEARtBROKEEN
OtHER tHiNGS tO KNOW: i DONt tYPE LiKE tHiS All tHE tiME, lOVEE tO lAUGH AND SMilE,i lOVEE fUNNY GUYS,iM PERVERtED ;D BUt tHAtS WHAt MAKES ME fUNNY,MY liFE iS NO WHERE NEAR PERFECt BUt i MAKE tHE BESt OUt Of it. <3
ME: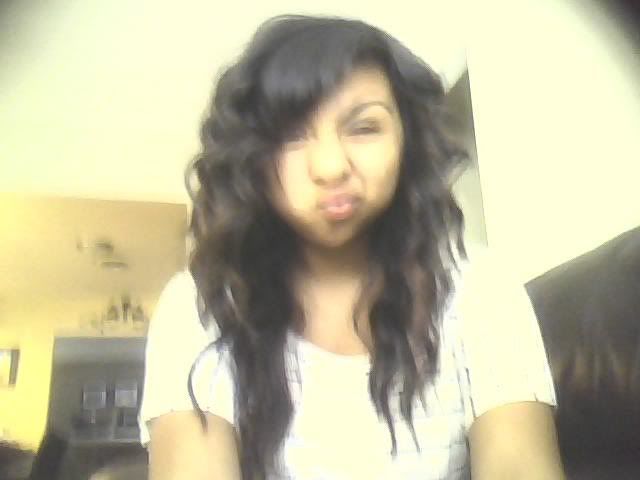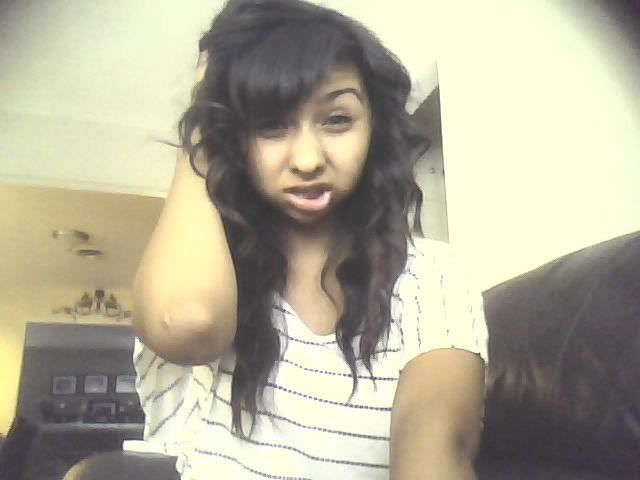 MY fAN SiGNS:
[X]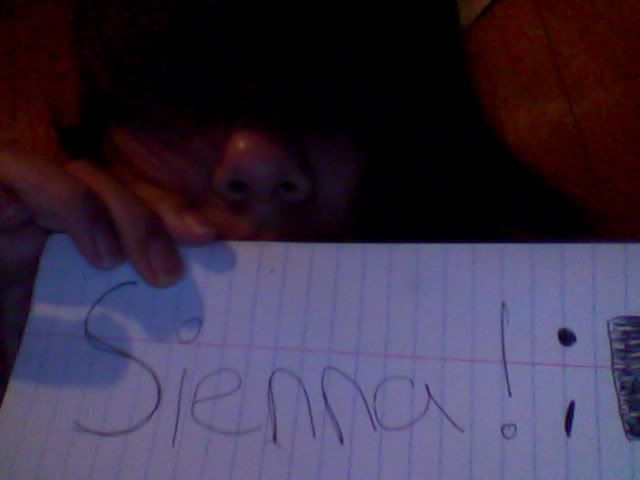 [x]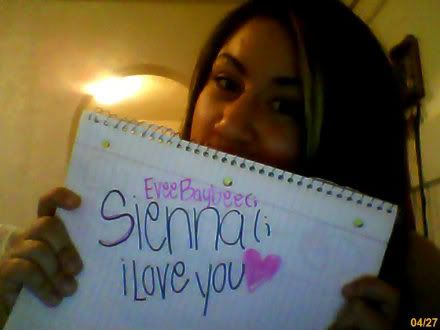 UHM WEll tHAtS Al i'll ADD MORE WHEN i tHiNK Of MORE C:
[UPDAtED 2-14-2k11 1:49 P.M.]
~~~~~~~~~~~~~~~~~~~~~~~~~~~~~~~~~~~~~~~~~~
Spell your name and see what it means;
A: hot
B: loves people
C: good kisser
D: makes people laugh
E: has gorgeous eyes
F: really wild and crazy, adore you
G: very outgoing
H: easy to fall in love with
I: loves to laugh and smile
J: is really sweet
K: really silly
L: smile to die for
M: makes dating fun
N: loving and caring
O: has one of the best personalities ever
P: popular with all types of people
Q: hyperactive
R: good boyfriend or girlfriend
S: cute
T: very good kisser
U: is very sexual
V: not judgmental
W: very broad minded
X: never let people tell you what to do
Y: is loved by everyone
Z: can be funny and sweet at times
~~~~~~~~~~~~~~~~~~~~~~~~~~~~~~~~~~~~~~~~~~~~
REAl NAME:
S: CUtE
A: HOt
R: GOOD GiRl FRiEND
A: HOt
H: EASY tO FAll iN LOVE WitH
MAH NAME iN SPANiSH ClASS:
S:CUtE
i: lOVES tO lAUGH && SMilE
E: HAS GORGEOUS EYES

(iN MY OPiNiON NOt TRUE MY EYES ARE SOO DARK tHE AlMOSt BlACK)


N: lOViNG && CARiNG
N: lOViNG && CARiNG
A: HOT (NOt tRUE EitHER LMAO BEttER WORD WOUlD BE OK)
~~~~~~~~~~~~~~~~~~~~~~~~~~~~~~~~~~~~~~~~~~
"Hunnì If Yuuя Gunna Be Twσ-Ғα¢є∂ At ℓєαst Maкe One Pяєттч!;"
~~~~~~~~~~~~~~~~~~~~~~~~~~~~~~~~~~~~
Friends
Viewing 12 of 289 friends