Secret Clouds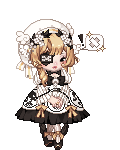 Details
Total Posts

2594

Posts Per Day

0.55

Member Since

06/03/2008
Occupation

Mischief maker xD

Gender

Female

Birthday

12/19
---
Interests
Favorite Movies/Anime
Favorite Reads
Hobbies/Interests
About
I see you have stumbled upon my humble little sanctuary. Please, do come in! Have some tea and Danish pastries with me whilst I tell you more about me. Let's see, where do we begin? Ahh yes... I go by many names but S.C and Evy are most common. I'm 23 and I have a penchant for all manner of small, adorable things. Below, I have written a concise profile to make things much easier.
Pseudonym(s)
『 Lulu, Clouds, Evy, S.C 』
Likes
°`'•.¸¸.•'´*•.¸¸.•'´*
♡ Colour『 Pastel colours; Black; White 』
♡ Music『 Jazz; Disco; Funk; Electro Swing; Neoclassical; Darkwave; Bubblegum pop; Acapella 』
♡ Hobbies『 Singing; Daydreaming; Drawing; Reading; Looking at fancy furniture; Chatting with friends; Dressing Up 』
♡ Books『 Ningen Shikkaku; Lord of the Flies; The Wind-Up Bird Chronicles; Naïve. Super; Memories; 1Q84; Colorless Tsukuru Tazaki and His Years of Pilgrimage; Warriors; Artemis Fowl; Lionboy; Rover; Redwall series 』
♡ Poets『 Emily Dickinson, Edgar Allen Poe, Osamu Dazai, Alfred Tennyson, Rumi 』
♡ Desserts『 Pastries, Cinnamon Rolls, Gelato, Nougat, Chocolate, Pudding, Crème caramel 』
♡ Lolita『 Sweet; Classic; Gothic 』
♡ Fashion『 Fairy Kei; Mori girl; Dolly Kei; Preppy; Liz Lisa; Larme; Swankiss; Ted Baker; Kate Spade; Olivia Burton 』
♡ Frilly dresses, Ribbons and Bows, Heart-shaped lunchboxes, Music boxes,
♡ Comments and PMs『 It really makes my day when I receive a comment or PM with kind messages written on them. Even a simple hello will do. 』
♡ Meeting new people
♡ Lame, Cheesy, Terrible pickup lines
『 So stupid that they crack me up! My personal favourite: "Are you trash? Cause I wanna take you out." Another sample: "Are you Jewish? Cause you
Israeli
hot." 』
♡ Anything and
EVERYTHING
Disney
♡ Animated emoticons and kaomoji 『 Sometimes, words aren't enough. 』
Dislikes
*`'•.¸¸.•'´*•.¸¸.•'´*
✖ Random friend requests「 Please introduce yourself and let me get to know you better before adding me because it's only polite you do so 」
✖ Text talk「 I can't keep up with all the new abbreviations, so try to refrain from using them every sentence.
Old granny here. 」
✖ Insects「 They are an abomination! Nature, what were you thinking to give a creature that many legs and eyes!? 」
✖ Rude People「 Have a little respect for yourself and the people around you please 」
✖ To be asked for personal information「 I will not disclose my personal information to anyone unless I know you personally 」
I am much obliged that you've chosen to read the humble profile that I have been filling out so fervently for your enjoyment!
Friends
Viewing 11 of 11 friends
Multimedia
Signature
DQ:

Thank you kind stranger!
CQ:

SC's Closet