About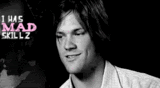 So I suppose here is where I should tell you all about myself.....only problem I see with that is that all of who and what I am can't be conformed into this little box, so I'll give you a few things about me.....
I'm 24, yes, I'm old. I have one beautiful baby girl! If you haven't figured out by now that I like yaoi, then leave. What are you doing here? I write, read, LOVE Fanfiction!!! If you want to check out my work, I recommend going here: http://www.fanfiction.net/~sasunarujunkie
I also have a fanart of my work, and that can be found here: http://torafox.deviantart.com/art/The-Fall-139750636


You are a Chibi Seme!
You are the seme in disguise. Able to fit in and get along with uke and seme alike, you are able to get close to the uke on their level before exerting your dominance. This makes you at times manipulative and able to fool others about your true seme nature. Because of your harmless appearance, it takes the flamboyant Flaming Uke to match wits and really bring out your aggressive side to expose you for the seme that you are.
Most compatible with: Flaming Uke, Badass Uke
Least compatible with: Dramatic Uke
DRARRY IS MY OTP!!!! (so is SasuNaru, I just can't choose...)
THESE TWO BOYS DESERVE A SHRINE...PERIOD.
AKUROKU ROCKS MY SOCKS
KAKAIRU IS TEH SMEX!!!

GAALEE BECAUSE I SAID SO!!!

BECAUSE TOSHIYA IS AWESOME
AND BECAUSE GACKT IS HOT(WITH HYDE)
And this is just because Potter Puppet Pals Rock, and Snape's my fav...
Friends
Viewing 12 of 89 friends
Multimedia
Signature