Sapientes Gladio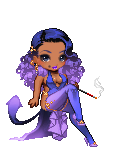 About

Video Games: Final Fantasy, Shadow Hearts, The World Ends With You, Kingdom Hearts,
Mortal Kombat, Soul Caliber, Tekken, Street Fighter, Yakuza 4, Guilty Gear,

Music genres: Kpop, Krock, Jpop, Jrock, Mandopop, Taiwanese pop, Romanian pop,
French metal, French pop, British pop, art rock, symphonic rock / metal,
orchestral, video game composers, opera, J-urban, Celtic, K-ballads, K-indie.

Interests: Roleplaying, writing, fanfiction, anime, video games, Asian dramas, foreign films,
burlesque, foreign languages, BDSM, demisexuality, astral projection, tarot cards,
Harry Potter, Anita Blake (somewhat), manga.


Zaira. College student. Demisexual. Tumblr. Backloggery. Last FM.
Advising you to look away if you don't want to see my face.
Journal
[Aoi's Journal of Crap]
dfggd
Multimedia
Signature
'93 - black & fab - roleplayer - vidya gamer
femme noir search