About
~*
Elder Vampire
*~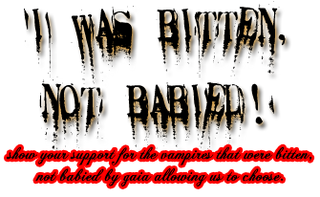 From the day I was born till the day I die, the only side I'm on is my own.
-Saiyuki

Let me rest, let me heal, give me time to just be. A little time, a little more, simply here, resting. Watch, wait, and just see, I'll be back. Then, just then, will you all really see the real me.
Then life happens.
Was a site mod: June 2008-July 2013
I quit modding because of this. Seems to be a really good reason to me. If I can't be in heaven, I may as well make my own here.