About


HEY HEY!!! MY NAME IS SAMANTHA BUT PEOPLE CALL MY SAMMY IM 17 MY BIRTHDAY IS SEPT 2ND I LIVE IN THE USA IN WISCONSIN WITH MY DAD!!!



......THINGS I LIKE TO DO FOR FUN!!!
*PARTY LIKE A ROCKSTAR!!! (LOL)
*DANCE
*HANG WITH FRIENDS
* ALSO HANG WITH FRIENDS ON GAIA IN A RALLY
I LOVE U GUYS!!!
-
-

Your real name - Samantha
Single or taken - taken by foreverlost324/CHRIS I LOVE U!!
Male or Female - Female
High School - yes, 11th grader
Favorite Color - orange and yellow
Hair Color - brown,blond
long or short - middle
Eye Color -brown
Are you health freak- NO
Height - 5'7
Do you have a crush on someone - yes
Do you like yourself -yes
Think you're awesome -yes
Piercings -yes 11 holes in my ears and one in my noise
Tattoos nope
Righty or Lefty - righty
___Your 'Firsts'___
Surgery - when i was a mouth old
First piercing - when i was 5
First best friend - her name was penny
First Award -when i was 4
First Sport You Joined -soccer, softball, danceline, cheerleading, basketball, gymastics, volleyball
First pet - when i was 3
First vacation - when i was 7
First Concert -when i was in pre- k
First love - when i was 7
___Currently___
Eating - NO
I'm drinking - Coffee
I'm about to - do nothing
Listening to - friends talk in a rally
Waiting For -nothing
Wearing -clothes
___Your Future__
Want Kids? - yes
Want to Get Married? - yes
Careers in Mind ? - vet, hairstylest
__Which is better with the opposite sex?__
Lips or Eyes?- eyes
Hugs or Kisses ? - hugs
Shorter or Taller ? - middle
Romantic, Spontanous ? - Romantic
Nice Stomach or Nice Arms ? - IDK
Sensitive or Loud - Sensitive
Hook-up or Relationship - Relationship
Trouble Maker or Hesitant? - Trouble Maker
___Have you ever___
Kissed a Stranger ? - yes
Drank bubbles ? - no
Lost glasses/contacts - NOPE, I got good eyes
Ran Away From home - NO/ kinda
Broken any bones- NOPE
Broken Someone's Heart ? - IDK
Turned Someone Down ? -YES, but all ways fixed it
Cried When Someone Died - YES
Cried at school ? - YES
___Do You Believe In___
Yourself ? - yes
Miracles ? - yes
Love at first sight ? -yes
Magic ? -yes
Heaven - -kinda/yes
Santa Clause ? -No
Sex on the first date ? -no
Kissing on the First Date - yes
Angels- yes
___Answer Truthfully___
Is There one or more people You Want To be with right now? -yes
--------------
----------------
I DONT NO WHAT ALSE TO SAY SO IF U GOT ANY QUESTION SEND ME A MESSAGE OR LEAVE ME A COMMENT PEACE OUT!!!
GAIA RULES!!!
-----

-------
----------------





WILDFANTASY--IS THE BESTFRIEND/SISTER ON GAIA EVER!!!!!!THANK YOU FOR EVERYTHING !!!! IM GLAD UR MY FRIEND!!
SAMMI7978-- IS ALSO THE BEST FREIND AND SISTER EVER!!! THANK U SIS!!!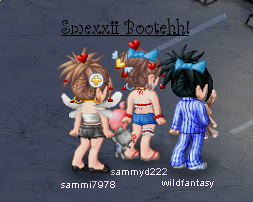 WITCH SIDE U LIKE BETTER?
***IM GLAD THAT I MEET U BOTH!!!***

... LOVE U GUYS I ALSO LOVE ALL MY FRIENDS!!!!....
CUTE QUOTES OF WHAT I FEEL!!!(every Quote has a meaning)
---Don't walk in front of me, I may not follow ~ Don't walk behind me, I may not lead ~ Just walk beside me and be my friend.
---It is the friends that you can call at 4 A.M. that matter.
---Hold a true friend with both your hands.

---I love you, not for what you are, but for what I am when I am with you.
---Ugliness is better than beauty. It lasts longer and in the end, gravity will get us all. (LOL)
---Be who you are and say what you feel, because those who mind don't matter and those who matter don't mind.
Friends
Viewing 12 of 82 friends
Multimedia