About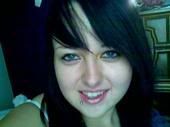 Latina
I have 8 ear piercings, right lower lip and septum. Inked, too.
Licensed Cosmetologist.
I'm very in your face and outgoing.
I do tend to bug people and speak my mind with no apologies.
I am pretty decent at working with HTML and CSS coding.
At one point I had a profile shop on this site--I'm just too busy nowadays.
I appreciate comments and interesting conversation.
However, I do not appreciate PMs with offers to cyber nor do I like people trying to con me out of gold or items.
I worked the Marketplace daily. I know prices.
I will not donate unless I know and like you and FEEL LIKE IT.
Never beg or I'll report you. That goes for n00bs and veterans alike.
SBM's Tutorial To Making Gold The LEGAL Way:
1. Post in the threads. Whether you're RPing or just chatting, you are given gold for it.
2. Vote in the arenas and whenever you see polls in threads, do them!
3. When you get enough gold to buy MCs (Monthly Collectibles) or other expensive items in the Marketplace, do so! But make sure it's worth the investment. Save it in your inventory or wear it until the price goes up then sell, sell, sell. Then repeat with something a little more expensive.
4. Another way would be to sell your skills or crafts in the Mini-Shops. If you can draw, make cute little animals or creatures in Paint or Photoshop then sell them! If you can make profiles, banners or other special images, you can sell those too!
5. You can take your luck to the games and casino. You can win gold AND items! Then sell those items in the Marketplace for more gold if you'd like.
6. The only other way I've seen some members get gold is by becoming a professional "bumper". These people get paid by thread/shop owners to leave posts in order to keep them at the top of the list of threads in the forums. Depending on who hires you and their need for clients or people, you can make up to 45-50g a post! (That's not a guarantee, however.)

If you have seen any other LEGAL methods of getting gold, please feel free to PM me or leave a comment.

My Mule...He's Retired.

Tampon Queen's Playlist
Anything that makes me think or feel something.
Questing

Avi Pics
Good Gaia Friends
Non-Starter Commons
Blue, Pink and Gold Inks
THE CREATION OF A PINK OCTOPUS PLUSHIE!!!


Gold :]
Avi Art Of Me
[1]
[2]
[3]
[4]
[5]
[6]
[7]
[8]
Multimedia
Signature

[Crush<3]



Call Me SBM, Kthx. :]