About


I've been on Gaia for a good long while, this is my third account, but the one I use the most. My first account which some may know as Wasabi-san was hacked, which made me very sad. Never fear though, Sage is here to spread the love that Wasabi couldn't continue to give.

I like to play zOMG. I've already deafeated eb, and am a level 10.5; but I still hang around to help my friends (and make new ones) and help other people. It's tough learning the ropes of zOMG sometimes.

Here is a little more about myself for those who are curious:
Favorite Food: Steamed crabs
Least Favorite Foods: Raw onions, beets
Favorite Animes: Yu Yu Hakusho, Naruto, Samurai Pizza Cats, Shaman King, Tokyo Mew Mew (original Japanese), Fullmetal Alchemist (both Brotherhood and the original anime series), Hetalia, Noir, Tsubasa Chronicles, Fairy Tail, and Ranma 1/2.
Favorite Manga: Oh My Goddess!, Azumanga Daioh, Inu Yasha, W Juliet, Fuushigi Yugi, Kamicham Karin, Rurouni Kenshin, and Eerie Queerie
Favorite Animal: Penguins
Least Favorite Animal: Wasps
Favorite Colors:Teal and silver
Favorite Music Artists/Bands: Sheryl Crow, Dave Matthews, Eric Clapton, Enya, Abba, The Beatles, Gorillaz, Pizzacato #5, Hikaru Utada, Indigo Girls, The Eagles, Lenard Skinard, Dragonforce, Gwen Stefane, Peter Paul & Mary, Kelly Clarkson, Jessica Sanchez, Sarah McLachlan, Vocaloids, and Erutan.
Friends
Viewing 12 of 257 friends
Multimedia
Signature
heart RPing as Hungary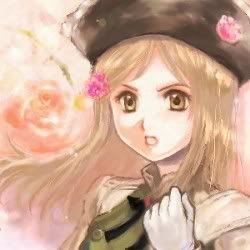 Paint it Rainbow~! A Hetalia Guild!
Join up! We could use more countries!