About The Emo Chikieh
Stuff about me
1. I love making dream avitars!
2. Im dating the best guy ever and he's MINE D=< NOT YOURS MINE xD
3. Im hawt
4. I love avitar drawings so can you guys make me some?
5. I love hanging out with my friends
6. Im 11 so what
7. Hi
8. I love all Twilight books!
9. Im like the only girl who has had like 43 boy friends so far in they're life so far D:
10. Most of my exs still love me D:
11. I LOVE SMILEYS!! =D =3 xD Owo O_o D:
4laugh
mrgreen
xD
12. I mostly dont get along with every body D:
13. I have alot of friends
14. -giggles- PLZ GIVE ME ART xD GIMMIEH GIMMIEH
15. Im to sexy for you
16. Im a dork/nerd/ugly/smart l8B
READ THIS AND YES I FEEL FOR IT xD
Isn't this funny? Read.
You know you live in 2008 when...
1. You go to a party, sit down and take MySpace pics
2. You haven't played solitaire with real cards in years
3. The reason for not staying in touch with your friends is because they don't have AIM, MSN, MySpace, FaceBook, ect...
4. You'd rather look all over the house for the remote instead of just pushing button on the T.V.
6. Your evening activity is sitting at the computer
7. You read this list and keep nodding and smiling
8. You think about how stupid you are for reading this
9. You were to busy to notice number five was missing
10. You actually looked back up to see if there was a number five
11. And now you're laughing at your stupidity
12. Put this on your profile if you fell for it,
(And you know you did)
WOOHOO

Which Final Fantasy Character Are You?
Final Fantasy 7
I AM QUESTING FOR AVITAR ART FOR ME! =3
YAY LOOKY I GOT ONE!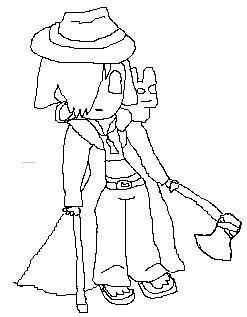 from alex-kun!
my dream avitar
Total Value: 270,467 Gold
[Item Information]
Item List:
Blue Kilt
Black GPD Protective Vest
Blue Wulf Tail
In Da Hood Black Sweatpants
Turquoise Leather Kachina Dancer Boots
Those Black 90s Gloves
Baby Chicky
Pora Ice (on my head) 4th gen.
Midnight Black Towel
MoMo the Monkey
Mochi the Puppy
Heart of Gold
Radiant Prism
Spirit Falcon
GO Phones
GO Phones
Elegant Blue Ribbon
WTF Hat
Western Zodiac
Blue Torque Shades
The Lusty Scoundrel