About
I am L.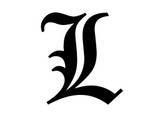 Currently I am investigating the Kira case with the help of the Japanese police. Who is Kira, you ask? A murderer. But brilliant one, always one step ahead of me. Or so it seems. I am getting closer and closer to capturing him and only then will justice be achieved.

Kira has this delusion that he is justice and that peace will be achieved by eliminating all the evil people in the world. He aims to create a New World where there is not a single person with evil intentions. So far hundreds of criminals have been killed either by heart attack or by some other means. But this is not justice, it is only murder. It is true that crime rates have dropped, but it is not because Kira is creating a world of peace - it is because he is creating an aura of fear. I will catch you Kira. Justice will prevail.

As the world's best detective, I usually don't go out much in order to keep my identity unknown. When I do though, I occasionaly visit the candy store or bakery...ok I always visit the candy store and bakery but that's because I love sweets! Anything with sugar. Espeacially strawberries. It's my weakness. But it keeps my mind sharp. Watari, my gardian/father-figure is always telling me how amazed he is that I don't gain an ounce despite all the sweets I eat.
Mmmm strawberries...
So far Kira has managed to elude my grasp. But I'm getting close. My prime suspect at the moment is Yagami Light, the son of the Cheif of Police and head of the Kira investigation of all people. In fact, I'm about 6% certain that Light is Kira. He is the only one with the intelligence to match mine and to avoid my plots to expose him as the one behind all the deaths. Not to mention that being the son of the officer in charge of the Kira investigation he has access to all our informtation. He's also my first friend.
Light's not the only friend I've made so far during the investigation. Misa, a popular idol in Japan, has become involved in the case through her relationship with Light. She is very devoted to him, although I'm not sure the feeling is mutual...Oh well, she is very amusing and offers some comic relief in the tense atmosphere at headquarters. And although she calls me a pervert for insisting on 24 hour survailence of her and Light, I have assured her that it is absolutely necessary to the Kira investigation.

Friends
Viewing 12 of 13 friends
Multimedia
Signature
Who am I?


I am L...