About
im looking for more frends im a dark cocation a lot of my firends r stuped but hay wut can u do i love aniama games and FOOD
im a person who is strong in to fellings of others and make friends eazly i sing XD

my art i will do a car for u for gold price depends on the car

don't click this link...
You Are Lightning

Beautiful yet dangerous
People will stop and watch you when you appear
Even though you're capable of random violence
You are best known for: your power
Your dominant state: performing
What Type of Weather Are You?
http://www.blogthings.com/whattypeofweatherareyouquiz/
You Are Kermit

Hi, ho! Lovable and friendly, you get along well with everyone you know.
You're a big thinker, and sometimes you over think life's problems.
Don't worry - everyone know's it's not easy being green.
Just remember, time's fun when you're having flies!
The Muppet Personality Test
http://www.blogthings.com/themuppetpersonalitytest/
You Should Drive a Ford Shelby Mustang Cobra

You have an extreme need for speed, even when you're not in a hurry.
And while your flying by, you don't want to look like every other car on the road!
What 2007 Car Should You Drive?
http://www.blogthings.com/what2007carshouldyoudrivequiz/
You Are Somewhat Machiavellian

You're not going to mow over everyone to get ahead...
But you're also powerful enough to make things happen for yourself.
You understand how the world works, even when it's an ugly place.
You just don't get ugly yourself - unless you have to!
How Machiavellian Are You?
http://www.blogthings.com/howmachiavellianareyouquiz/



captain
Take this
quiz
!
]

you r a dragon feirce and loyal very protective you like to collect odds and ends for the sake of it and may god help anyone who crosses your path
Take this
quiz
!
]

You are Vicious from "Cowboy Bebop"!You are IRRITABLE evil.
Take this
quiz
!
Friends
Viewing 12 of 105 friends
Journal
killxxxx's flaver of the week
short sweat and to the pint
Multimedia
Signature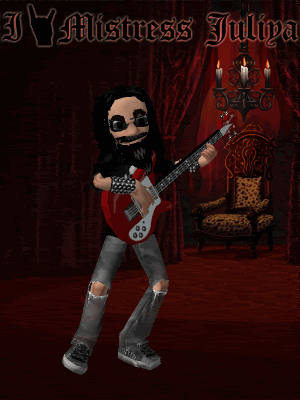 thay call me ZOMBIE

ROB ZOMBIE

92% of today's teens have moved onto rap. If you're one of the 8% that rock each day put this in your signature!