[mini shop]
[quest thread]
[draw me thread]
[more about me]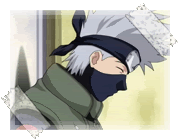 His skills are beyond good and evil,
His love for his friends, the passion burns still;
For his friends he is ready to kill,
And his brains can outwit the Devil.
While he lives on his wits one alone must survive,
And not wait for someone else to arrive.
The fangirls they scream when he lifts his head,
Their love for him would never be dead.
And yet his heart stays his,
No matter how handsome he is.
Don't be afraid of the pain that's not real,
For only pain of the heart is impossible to heal;
The incomprehensible pain that is felt by the heart:
His only self-expression is perverted in art.
Whatever the loss, whatever the pain,
He sticks to loneliness, the ring in his name;
He walks by himself on a dark lonely road,
Fighting for others in name of the Honor Code.
Everyone knows him, yet he stays mysterious,
Copy Ninja is what they call the famous;
Of having to choose between soul or soldier,
His father's experience is a cruel reminder.
In the Kakashi fanclub burns his name in our throats:
Whatever we say, he writes on our tongue.
By meeting his goals, we shall have glory and fame!
In the air towards him such fondness floats,
For our love is true, no matter for how long
We've known him; and no one for this is to blame.
A famous ninja who strikes fear in the hearts
Of enemies who dare face him in Ninja arts.