About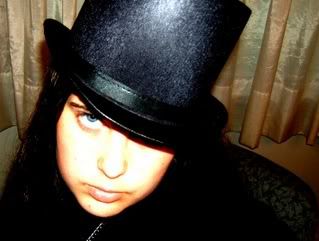 Why yes, this IS me. Like my hat?
Details:
Name: Rin
Sex: Female
Status: Single
Orientation: Bisexual
Height: 5'6" - 5'7"
Ethnicity: Caucasian
Smoke/Drink: No/No
Children: We'll see...
Education: In college
Occupation: Accounts payable and generalized office work
Favorites:
Books:'Polgara the Sorceress' and 'The Redemption of Althalus' both by David Eddings.
Music: I listen to anything ranging from english to japanese to german... Top 3 - Malice Mizer, Nightwish and Wolfsheim.
Video Games: **All Final Fantasy games**, all Silent Hills, DDR, BloodRayne 2 and all the SSX games.
Movies: V For Vendetta, Silent Hill, Suicide Club and The Producers.
* I am also an avid World of Warcraft addict. >_>;;

And much love to XDarkStarsX for the MoMo Monkey!!! And 5,000g!! Thank you! 4laugh
And also to Miss Charlaine for a MoMo Monkey and 4,000g mrgreen
And to HardCandyHitsugi for multiple items, including a great amount of tokens! heart
Friends
Viewing 5 of 5 friends
Multimedia